Refuge Worldwide return to Panorama Bar with Eliza Rose, Dreamcastmoe and Maryisonacid
Long-time residents All Night Passion and Tornado Wallace join the summer dance.
By Staff
Our Panorama Bar residency continues on Friday 11 August with a bumper summer line-up.
We are delighted to welcome Eliza Rose, champion East London DJ and vocalist who's brought together her love of UK soundsystem music and soulful lyricism so well. A self-styled selector and resolute collector of vinyl, Eliza hit a whole new level in 2023 - reaching UK No.1 spot and going Platinum. Make sure to check out 2024's follow up single, Better Love, produced by Mura Masa.
DC-Based vocalist and producer Dreamcastmoe pulls up to Panorama Bar for the first time, an artist who has found his place traversing across R&B, funk, soul, jazz and hip-hop. Expect bumping house and bass from the heart on this one.
Scotland-based devil duo All Night Passion make the trip over from Aberdeen to warm things up, while our African Acid Is The Future boss and Comme à la radio host Maryisonacid makes her first Panorama Bar appearance. Mary fuses together diasporic African sounds with an electronic groove, with her career and influences spanning from the conservatory of Paris Barbès to the punk scene of Berlin. 
Forerunner of the new wave of Melbourne dance producers, Berlin's adopted son and host of Basic Spirit on Refuge Worldwide, Tornado Wallace is an overdue addition to the line-up.
This one runs 10pm until 10am, make it count! Patreon please members reach out for Q skip (spaces are limited).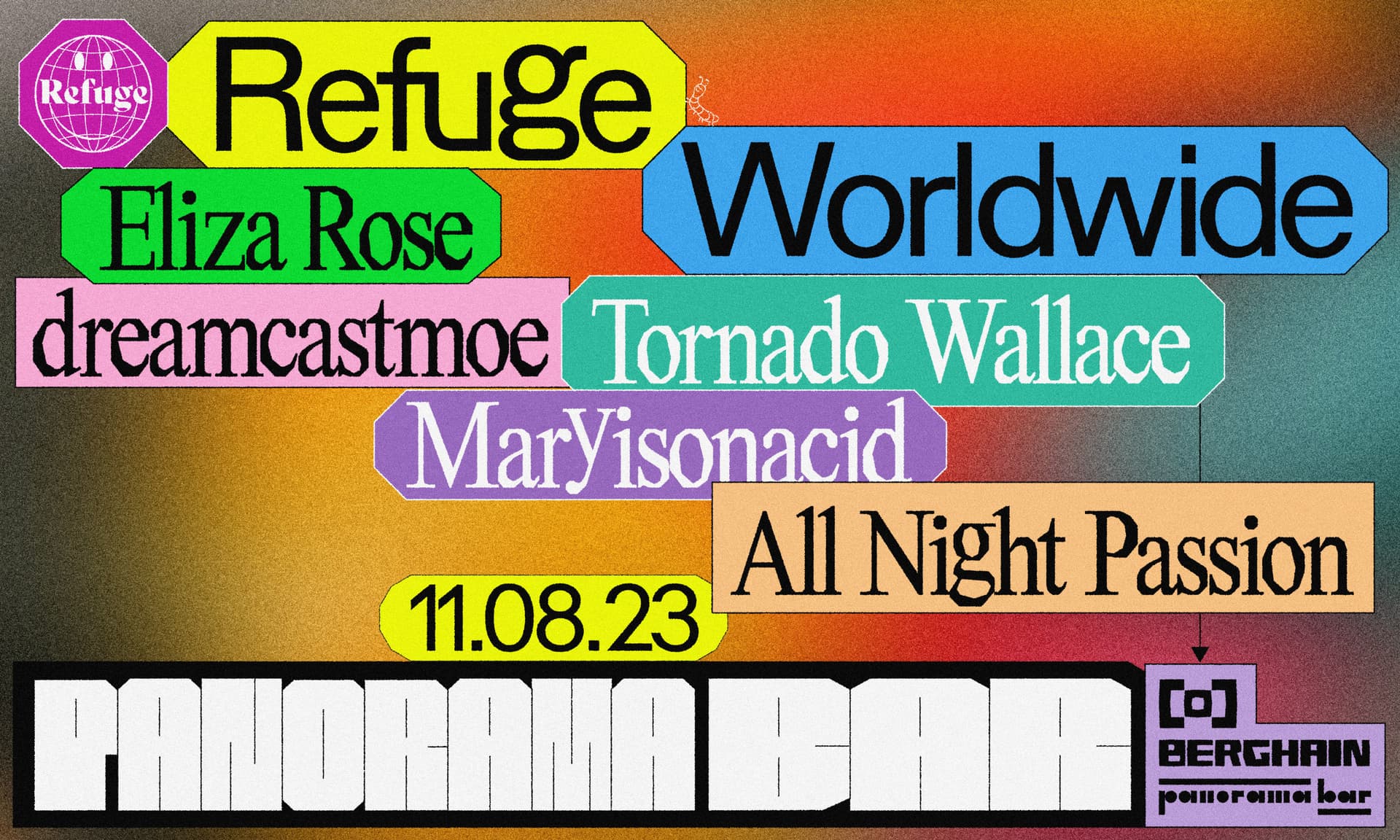 Friday 11 August
All Night Passion
dreamcastmoe
Eliza Rose
Maryisonacid
Tornado Wallace
10pm-10am // Panorama Bar // No Advance Tickets