Nour: Storytelling as Resistance
Nour discusses her upcoming documentary and Palestinian generational memory.
By Max Graef Lakin
Nour is a Palestinian musician, artist and activist.
Though she's often split her time between touring, production and roles with collectives like Future Female Sounds, Nour has recently shifted her focus to just one project: a documentary and oral history archive filmed in refugee camps around Jordan. So far Nour has collected around 90 interviews with Palestinian survivors of the 1948 Nakba.
Nour's interviewees, who are mostly in their eighties and nineties, recount a history that has been ignored and erased: their experience of Palestine before the occupation, of 1948 when around half of Palestine's population were expelled from their homeland, of the journey to Jordan and a lifetime of displacement.
Last month, we met Nour at the opening session of our workshop series Aswat Al Raseef and accompanied her on a filming trip to the Prince Hassan refugee camp in East Amman. Just two days after Nour hosted her workshop, the news came in that Al Jazeera journalist Shireen Abu Akleh had been murdered by Israeli forces in the occupied West Bank, only a few hours' drive away. The following conversation took place over the phone soon after.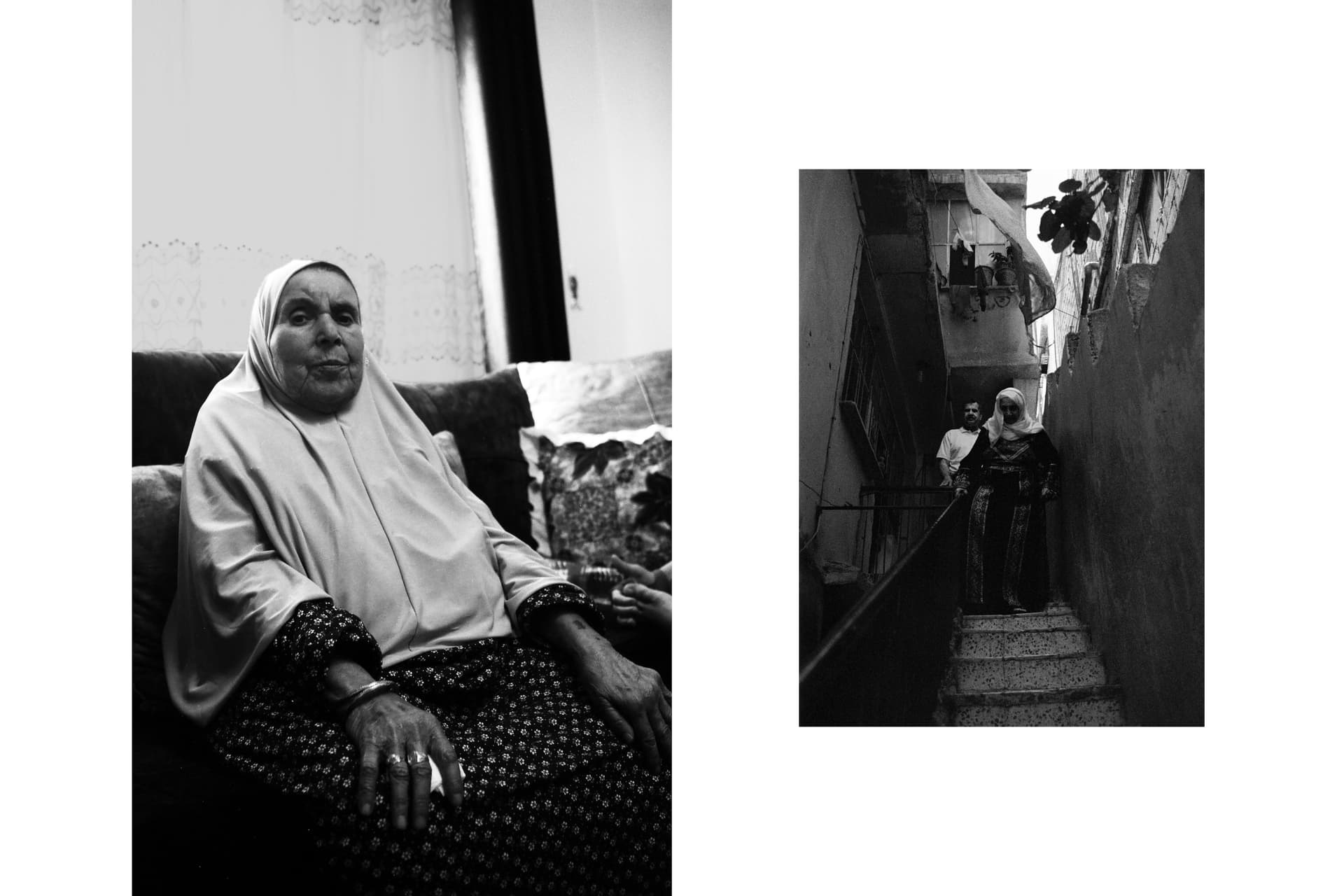 Hi Nour, where are you right now?
I'm in East Jerusalem with my family at the moment. As you may have heard, Shireen Abu Akleh was recently killed in a targeted attack by Israeli forces. She was a well-known and loved reporter here in Palestine and across the Arab world, so we are all mourning her.
The atmosphere has been tense. I always worry when the situation gets tense in Palestine and I'm not here. Whenever I feel that something might happen, I try to get here immediately.
I was at the funeral for Shireen which was amazing, so special. The violence that took place at the hospital was horrible. I wish it hadn't happened, but I'm glad that the world saw it. 
A few weeks ago in Amman, you held the opening workshop at Aswat Al Raseef. What was your focus?
My workshop was on the art of interviewing: how to approach an interviewee and help them to be comfortable, the kind of questions to ask to get a story from someone and the kind of things to avoid. It was about designing questions that allow people to reflect on their emotions and experiences.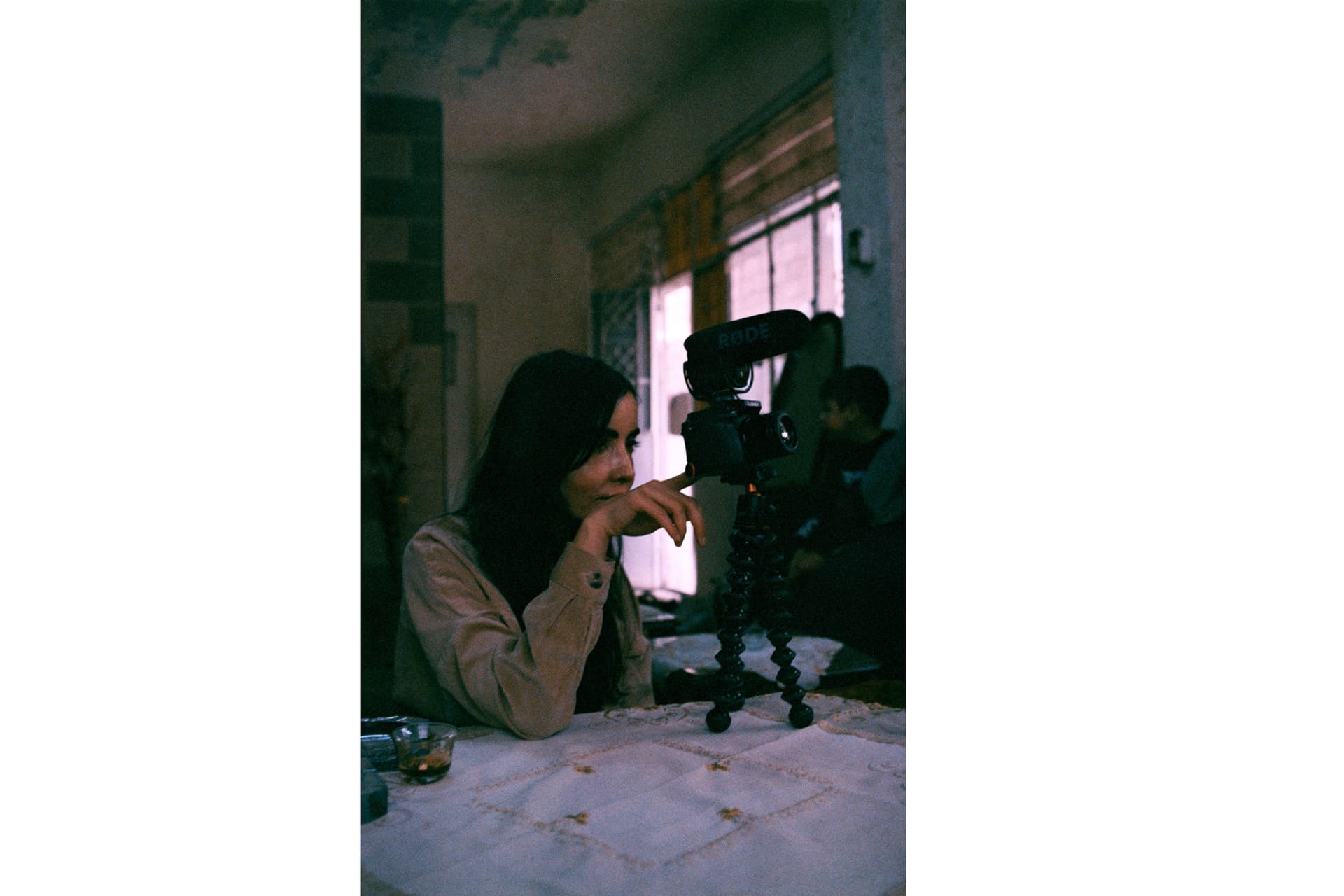 You showed the students some clips from your upcoming documentary, can you tell us about those?
Yes, exactly. The documentary will have no voiceover, so the interviews and testimonies I am collecting will lead the narrative.
One of the interviews I screened was with a man called Abdullah from the village of Al-Dawayima in Palestine (watch here), the site of one of the worst massacres of 1948. Abdullah witnessed many murders and lost his own family members. He fled and has been living in a refugee camp ever since. This all happened to him at the age of 12 and he was 84 years old when I interviewed him. It was traumatic, but he hasn't forgotten. I think for him and many others, those events remain ingrained in your brain for a long time, they don't disappear.
I took the students through the process of how to approach an interview like that: how to ask the right questions and how to know when it's time to take a break. There were moments in that interview when I would stop asking questions and just let the camera roll. Sometimes you don't need to talk, you can just let there be silence and this allows you to capture the most incredible footage.
I chose that interview as an example of how to manage emotional topics and situations, how to stay present and bring those emotions out, but not let those emotions overtake the interview completely.
What was the response of the participants?
It was amazing! They were so open-minded, eager and interested. After I screened the clips and gave a short talk, we let the students record interviews with each other. Everyone was so shocked and impressed by how quickly they opened up to each other.
They interviewed each other on mental health, goals in life and existential questions – things I definitely wasn't thinking about as a sixteen or seventeen-year old! Their questions and answers were so in-depth, even though they had only just met that afternoon. It was really special to work with them.
How important is it to pass these stories and skills on to a new generation?
Very. Allowing these memories to pass from one generation to the next is the main objective of the whole project.
It's also so important to pass on the art of storytelling itself. In my case, storytelling has been so important for my understanding of the world and my place in it. I'm a Palestinian with no memory of Palestine before 1948. But my Grandma remembers and she tells me stories about Palestine that I will pass on to my own children.
The people I'm interviewing are members of the last generation. Once they are gone, there will be no one left who lived through the Nakba and saw Palestine before the occupation. That's why it's so important to document these memories while these elders are still with us. As Palestinians, it's vital that we pass on our stories and history.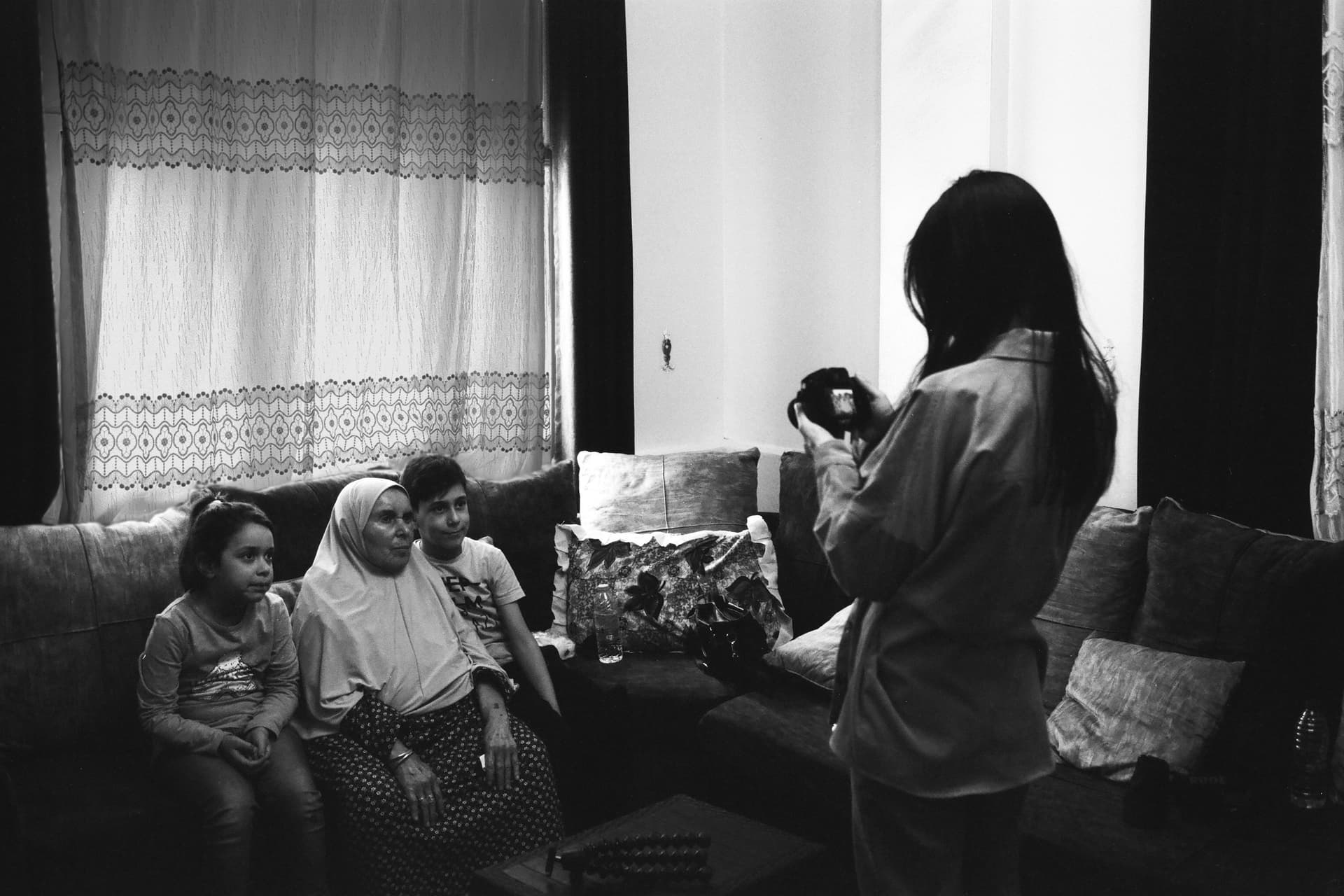 You've collected 90 interviews so far. Do you have an idea of the total number you're aiming for?
I'm not planning on stopping soon – I'm addicted, to be honest. The more stories I collect the more important I realise this project is. Obviously, I can't use all of them in the documentary, but that isn't important. I want to have them archived, to make a home for them.
Who are you hoping will see the documentary you're making?
I'd love it if twenty years from now a young Palestinian child could go look at them and hear what I heard about the history of our country. I'm lucky enough to hear these stories from the mouths of those who survived it, but the next generation won't have that unless we collect these testimonies now.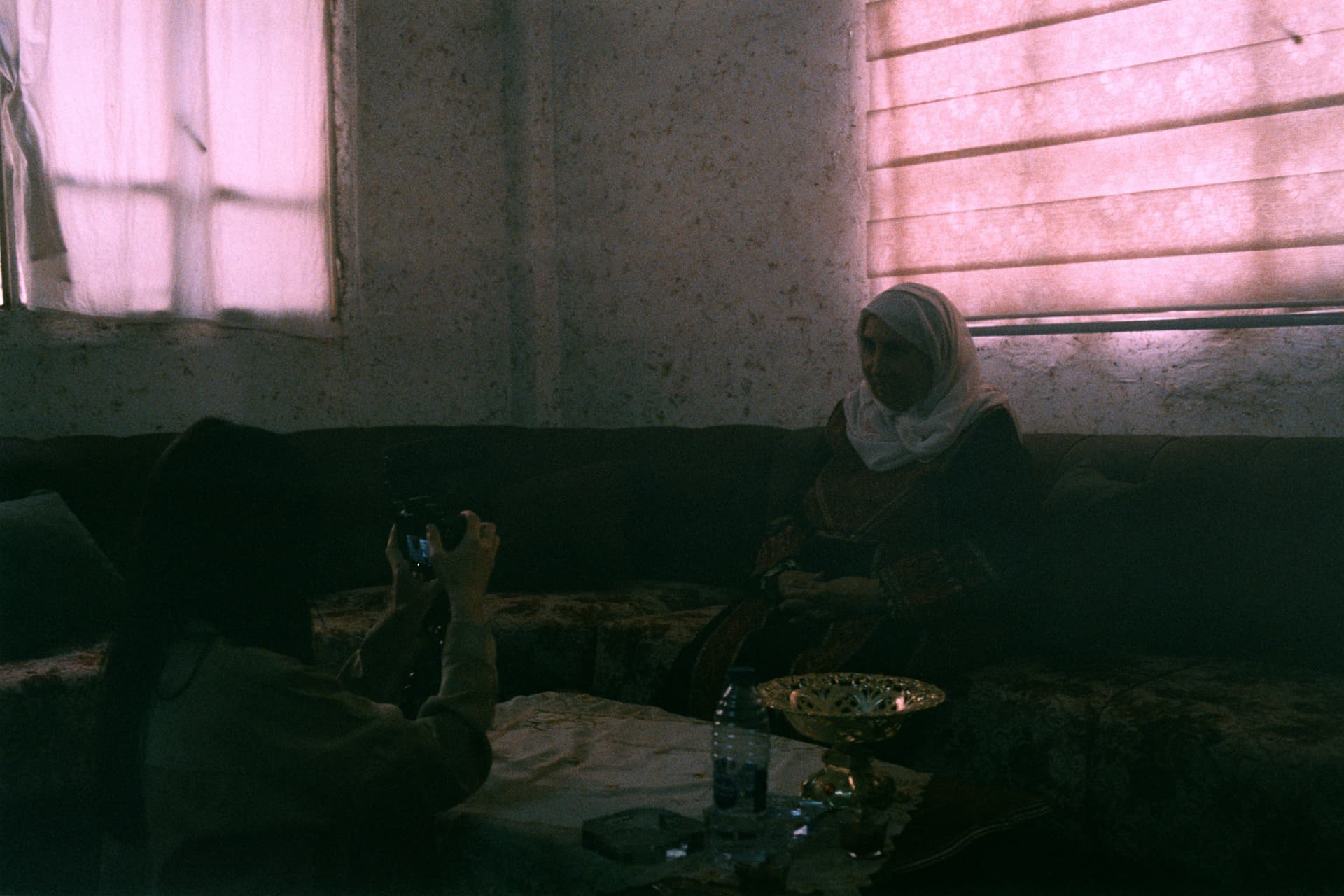 My other main target for this film is the Western world. I have lived outside Palestine for most of my life and I'm continuously surprised by how little the West knows about Palestine and the Nakba. During the last outbreak of violence in May 2021, I realised that even close friends of mine had no idea about the history of the conflict.
Why don't we talk about 1948 like we do other humanitarian catastrophes and massacres? It makes me angry and I think it makes most Palestinian people angry, that 74 years later we still have to fight to explain what happened. That's why I am collecting these testimonies–so I can show them to the world.
There's a clear educational aim behind the documentary. Have you felt that the process of making this film has been an educational experience for you too?
Definitely, I learn something new in every interview. I learn about places in Palestine that I didn't even know existed because they were destroyed. I learn about new massacres that I didn't know about because they were hidden. I'm learning so much in the process. That's also why I'm so addicted. It feels like there's so much left to unveil.
In addition to this project, you're also working as an artist and DJ. How do these different roles combine in your life, or do you keep them separate?
They combine in many ways. For myself and so many Palestinians, art or music is just another form of resistance. As Palestinians, we resist through whatever media we choose. There are Palestinians who resist through traditional Palestinian cooking, or by celebrating centuries-old Palestinian fashion or embroidery techniques. 
There are so many powerful ways to be an artist, to have a platform and to use it for good. And as a Palestinian, everything you do goes hand in hand with resistance.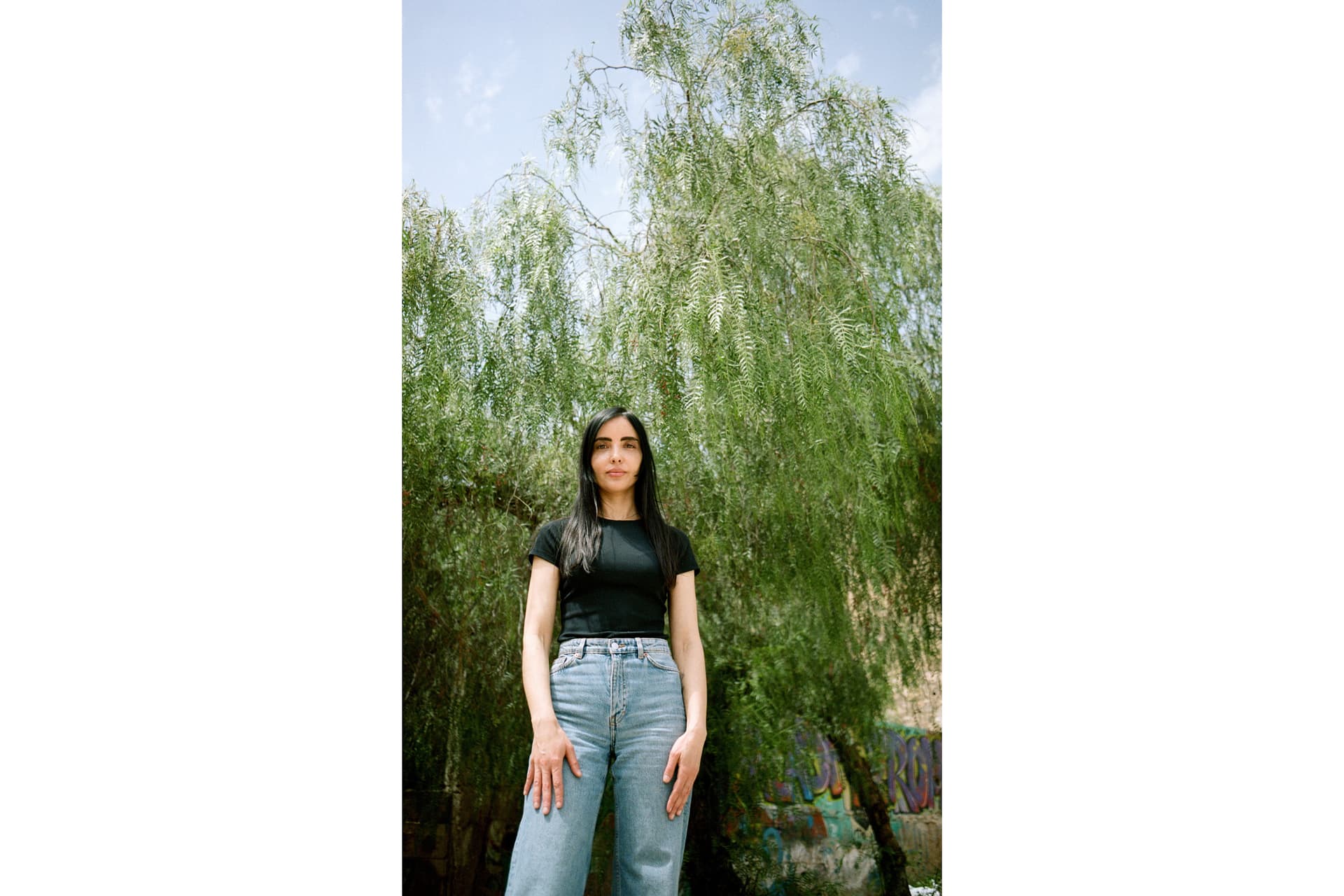 Images by Kolja Tinkova (IG: koljaaaaa__)
Follow Nour's work on IG: @refugeechronicles