Living through a Revolution | On the Ground: Iran
An Iranian artist discusses protest and creativity in the face of repression.
By Johanna Urbancik
Five months after the death in custody of Jina Mahsa Amini, Iran's revolution is still in full force and the people of Iran are more determined to fight for their freedom – even if you don't see it in the news anymore.
Since Amini's death on the 16th of September 2022, protests have erupted all over Iran calling for freedom and a regime change. The regime has met those protests and demands with brutal force and barbaric violence. The Human Rights Activists News Agency (HRANA) has said that, as of Friday 10 February, 528 protesters had been killed, including 71 minors. There are no definite numbers as to how many protesters have been arrested, but the regime itself has acknowledged the detention of tens of thousands of protesters. Although it is unclear how many executions there have been of protesters, in total the regime has executed 87 people this year already.
Following the conversation I had with a girl involved in the protests late last year, this interview is with an artist living in Iran, who tells me how their life has changed due to repression and censorship and what it's like to work in the arts while living through a revolution.
---
How are you doing right now? How have the last months impacted you mentally
Mentally, I'm doing both well and bad the moment. I say 'well' because I am still alive, and the fact that I'm taking a small part in this movement gives me hope and purpose. On other hand, I am feeling at times very down and heavyhearted, just like millions of other Iranians. Many of us have seen before our eyes so many brutalities and cruelties, and we are hearing so much devastating news every day. It makes it really hard for one to keep fully sane. Over 500 people have been killed, over 20,000 people imprisoned, many have been tortured, many have lost their eyes… and we haven't yet achieved the freedom we are fighting for. But I, just like others, understand that this is a process that might take some time, so we are keeping our spirits high, even though we feel downhearted at times.
What does your day-to-day life look like now? 
The protests, and the regime's response, have had a huge impact on our day-to-day lives in so many different ways. We are all more cautious with everything we do, because everyone is under surveillance. Even talking on the phone has become hazardous. Everyone keeps track of the news by the hour. Society has become very bipolar; supporters of the regime, although in minority, make up a considerable part of the population, so there are a lot of arguments and conflicts within society. The regime is under economical pressure, the inflation rate is really high, and many people are going through very difficult times financially. Internet access is getting more limited by the day, and we have complete internet shutdowns every once in a while. 
Many people were financially dependent on the internet, so they have basically been unemployed for almost four months now. That includes artist to a degree. It was difficult for artists to make a living before the protests too, since many forms of art or subject matters are forbidden in Iran, and many platforms where artists usually showcase their works have been banned, although there were some ways around the barriers. Many were working underground, or using VPNs to publish their works online, but now with the slow, limited internet, and a very oppressive atmosphere, it has become very difficult. But this movement really needs active artistic works to fuel its spirits.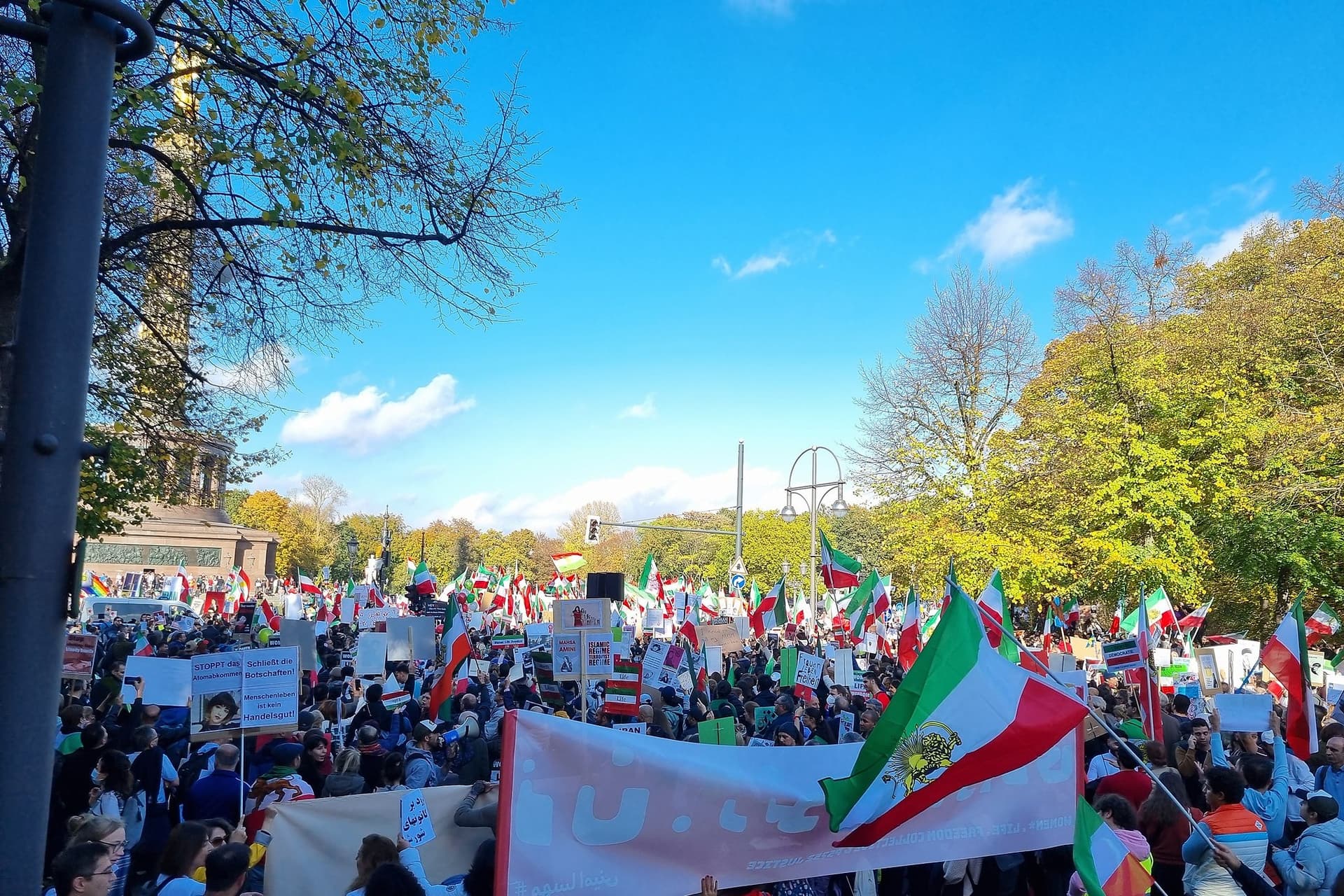 Iran solidarity protest in Berlin, October 2022. Photo: Amir Sarabadani (CC BY-SA 4.0)
The regime is threatening to execute two more protesters, in fact, by the time this interview will be published, we don't know how many have been executed and prosecuted in these sham trials. How do they make you and the country feel? 
It's a great sorrow to see such innocent and free-hearted lives being unjustly executed for seeking freedom. There have been four protest-related executions so far, and over 50 other protesters have been sentenced to death. Executions are only one way that the regime is trying to intimidate and take revenge on the protesters. Many have been killed under torture, on the streets, with the same purpose. But apparently, executions have had a counter-effect. I believe these executions are increasing public rage and determination. They act as a fuel to people's train for running this regime over. They are only making people more determined for what they want, which is freedom.
Do you think people are more scared after the first executions to continue protesting?
In short term, they could have helped in silencing some people, but in the long run, executions will bring more people to the protests, just as executions and other forms of suppression in the past have led us to where we are now. We've had numerous protests in Iran in the past few years, and they've all been violently suppressed. But they've become bigger, broader, and more purposeful every time. We had protests in 2020 called the Bloody November, where about 1,500 people were killed on the streets in only a few days, and here we are now, at what most Iranians believe is a revolutionary movement.
There is a lot of international focus on the protests and the executions. Do you feel any of that?
We do, and it's really promising, and Iranians are very grateful of the international community. But more action needs to be taken by the politicians. Many western politicians have taken "political sponsorships" of almost all the protesters who have been sentenced to death, however the regime is still executing them. 
Note: A political sponsorship involves utilizing the political influence of a lawmaker to raise awareness of the situation of Iranian prisoners, by engaging with Iranian ambassadors, fellow politicians, and human rights organisations.
This means these actions taken have not been enough. The regime needs to learn that killing its people and violating human rights is going to be at a huge cost for them, and that can only be induced by the world's politicians putting maximum pressure on them.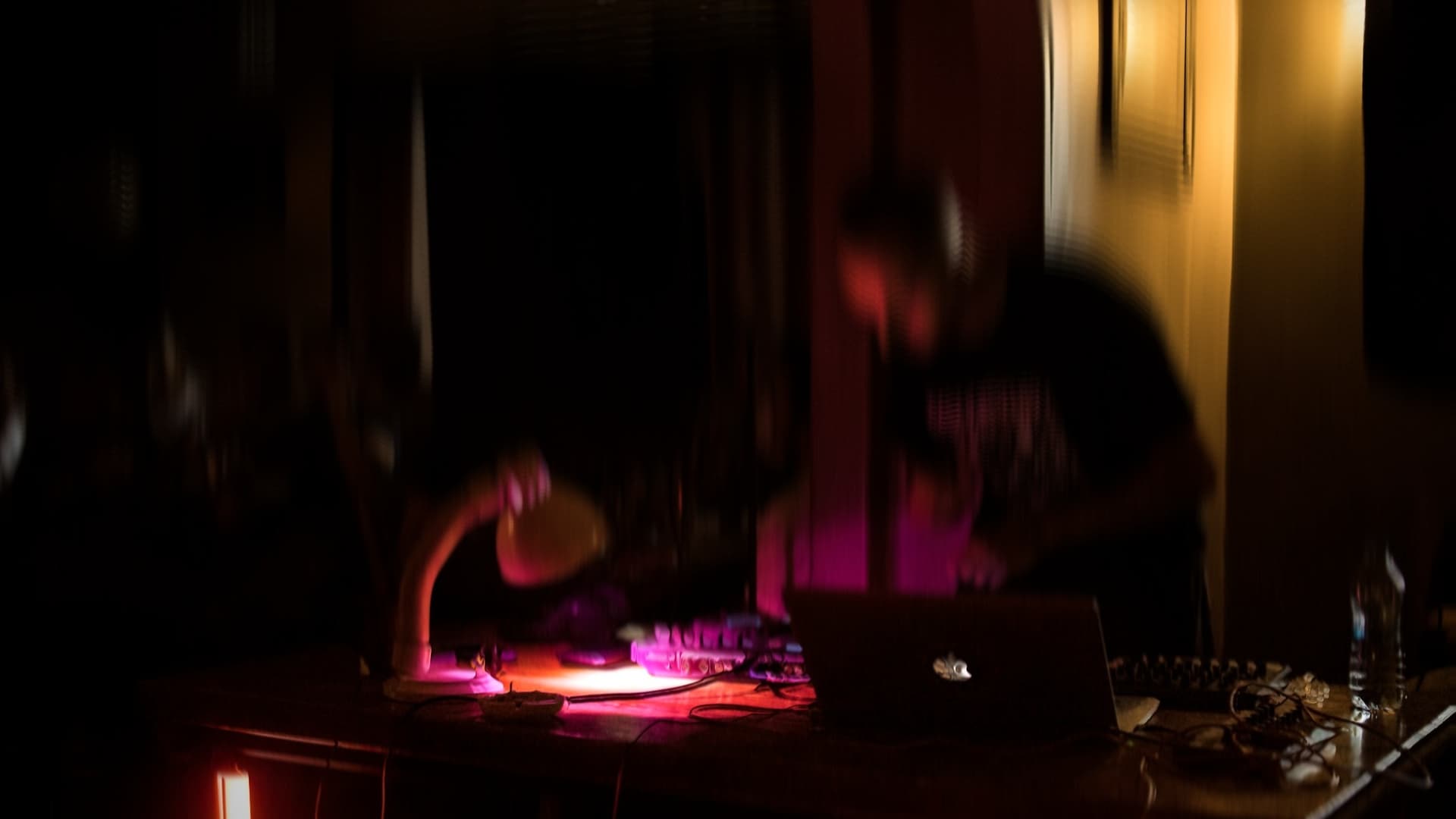 You're also a musician. Can you tell me a little bit about what your musical career and day-to-day life looked like before the protests?
Being an artist in Iran is really difficult in general. There are so many obstacles in your way, especially if you are an independent artist. You have to be working with the regime or conforming to their ideology in a way if you want to be a "successful" artist. 
It's a bit easier for music producers like myself, but as soon as lyrics are involved you have to be really careful about what is being said. If you reflect the reality of Iran in your works, you'll be accused of painting a black picture of the country and could face penalties like being banned from working or appearing on screen/stage. If your works touch political issues or criticise the system, the penalty could go as high as serving time in prison. If you want to publish your work, you need to get a permit from the Ministry of Culture and Islamic Guidance. That's why many artists work underground, while others censor themselves.
For me personally, the most challenging part of my career was getting my music to audiences and performing live. I collaborate with a lot of vocalists – underground artists who don't have permission to perform live or for their works to be published. So we have no choice but to publish our works on international platforms such as SoundCloud or Spotify, which are banned in Iran. That makes the market we aim for very limited, since not every Iranian has access to those platforms. I believe Iran is the country with the second most artists in exile. The number will probably be even higher after the recent upheavals.
How have the protests changed your music career?
This movement has changed my music career in many different ways. For one, publishing musical works has become much harder now. As I mentioned before, with the new internet limitations and bans, which include all platforms where musicians publish their work, it's become very difficult to present your work to your audience. On the brighter side, I've been so inspired by everything I've witnessed since these protest began. I've heard sounds and voices that I've never heard before, and they've already found their way into my music. I have friends and acquaintances who've been in prison and have been damaged physically and/or mentally. I've seen images of the bravery of my people, or of their sufferings. These things have had a huge impact on me emotionally, which as a result has greatly affected the music I work on these days.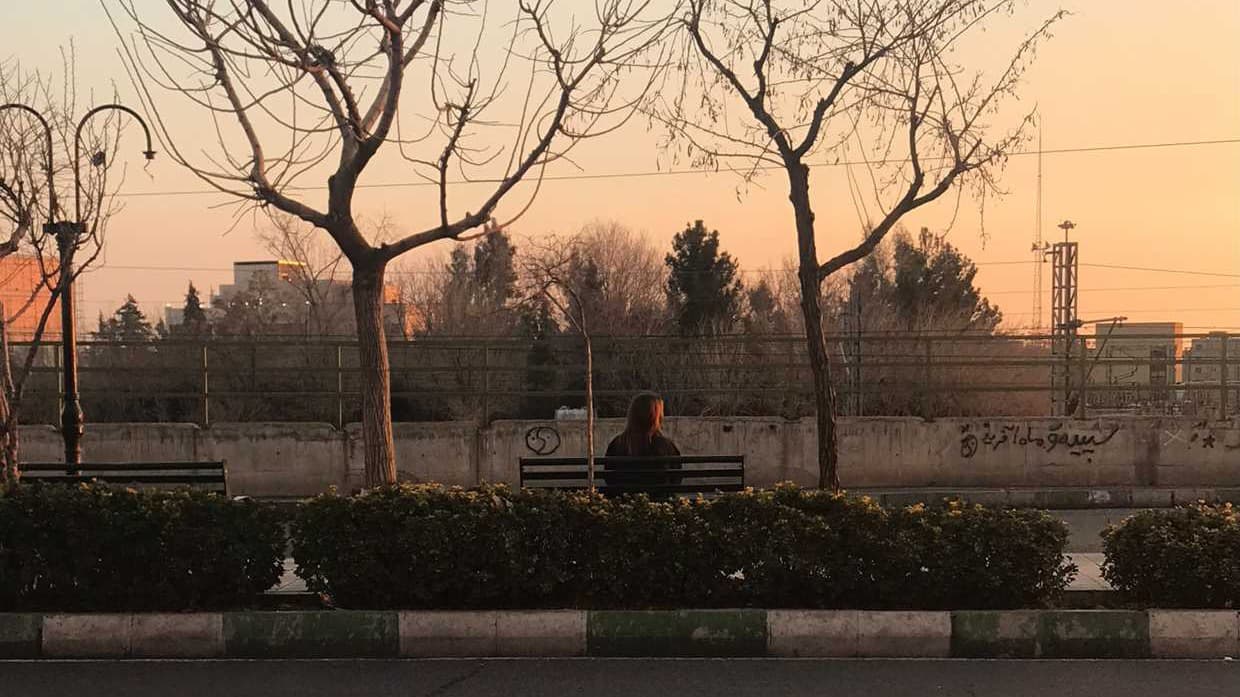 What would you like to tell the world? How can we support and help you?
All we need for the world to do is to stand on the right side of history. The Iranian people are bravely fighting for freedom that will make the world a better place. This is what the world must understand. This regime is not only a threat to the Iranian people but a threat to all of humanity. Fortunately, foreign politicians have heard the Iranian people's voices, thanks to their people, who have stood in solidarity with the Iranians.
We now hope that they put pressure on the regime, so we can win this war against a weaker enemy. This can only be achieved if the international community keeps amplifying our voices through art, media, etc. All I would want to tell the world is to stand with the people of Iran for a better world. Your voice matters and makes a difference.
In memory of and solidarity with…
Mohsen Schekari, 23, Barista and Rapper, executed on 8th December 2022,
Majidreza Rahnavard, 23, executed on 12th December 2022
Mohammad Mehdi Karami, 22, Karate Champion, executed on 7th January 2023
Seyed Mohammad Hosseini, 20, executed on 7th January 2023
And the countless people that have killed, mutilated or detained unjustly by the regime!