"We're all rising together!": Get To Know Walter Griot & Ukai
Two members of Berlin's premier Afrohouse crew in conversation.
By Staff
Celebrating RISE's contribution to Berlin club culture.
On 5 October, Walter Griot and Ukai of RISE came by the Refuge Worldwide studio, together with Hyenah and other members of the collective, to celebrate winning Club Commission's Tag Der Clubkultur prize. The party series, label and collective - or "movement", as they call it - has been the driving force behind the growth of Afrohouse in Berlin, throwing eight years of parties at Watergate, hosting a Love Parade truck, shooting a documentary and much more.
During a radio show with Richard Akingbehin, from which this interview has been transcribed, Walter and Ukai trade stories about the collective's history, mission and the challenges they've faced. As part of their Tag Der Clubkultur offering, they also made a generous donation our partner organisation Turning Tables.
---
So, the occasion is that you are one of the recipients of the Tag Der Clubkultur prize for your contributions to the club scene. Respect and congratulations!
Walter: Thank you. It's nice that our work and the whole culture around Afrohouse has been recognised. 
I think it would be nice to first just set the scene of what people could expect if they came into one of your RISE parties at a peak time.
Walter: I think one of the main words I would say is diversity. Of course, in terms of music, I mean, it's house music but there's definitely African chants, African drums and so on. It's not this stiff electronic sound - more like a world tour. The focus is on Africa, but also South American and Arabic sounds.
It's also very diverse in terms of the crowd. We always want to make sure that we have a big POC community coming in and that it's really a place where everybody's welcome.
Ukai: You can also expect a lot of energy. You will definitely see no one sitting.
You can't take that kind of diversity for granted in Berlin! Can you also tell us a little bit about your personal roles within the collective?
Walter: Every team member has their strengths. Hyenah is taking care of the label work. I'm more on the live events, Jane as well. Ghedi is setting up the East African market. Ukai is doing a lot of work in Angola. We're all rising together!
What was the reason for starting RISE in the beginning? Even though I know you both weren't part of it from the very beginning.
Walter: Right, I wasn't there from the beginning, but it all started at Watergate club, because Watergate was really the first major club that was open to this new sound. The crew got together. At first, it was Hyenah, Dede, Floyd Lavine, then this whole movement started.
So you would say there is more hunger for this sound in Berlin now?
Ukai: Definitely. There's a big difference. Now people have accepted it.
Walter: Before everything African was in this "world music" category, but yeah it's now accepted to be part of the club scene. And also, of course, it has something to do with the rise of big artists like Black Coffee, and also other big artists like Keinemuzik playing the Afro sound. So it really becomes more mainstream on a global level.
In Berlin, there is still a lot of work to do, especially from the side of the big institutions and the bookers. I think there's still some prejudice towards Afrohouse, with bookers thinking it's not for their crowd. It's just house music!
Ukai: Exactly. The crowd has accepted it, but the bookers are afraid of the word afro. It's a challenge that we still have to fight against.
Walter: Yeah, it's crazy. Like every time when I'm going out Panorama Bar, I see DJs playing half of their set just Afrohouse sound, but they're not known for that. People still go crazy. But to really book an artist who's known for that sound… that hasn't happened in the big institutions. This is what we're hoping for.
I think what you just said then is super important, that bookers not only need to book a party from that sound, but also integrate it into their other events. So there's this kind of mixing between the people and the sounds. This is how we develop.
Ukai: We just hope that this sound can be a normal sound. Not like, "Oh, you're playing afrohouse, how exotic. Is it only for this evening?" No, it should be a normal sound. That's what we aiming for.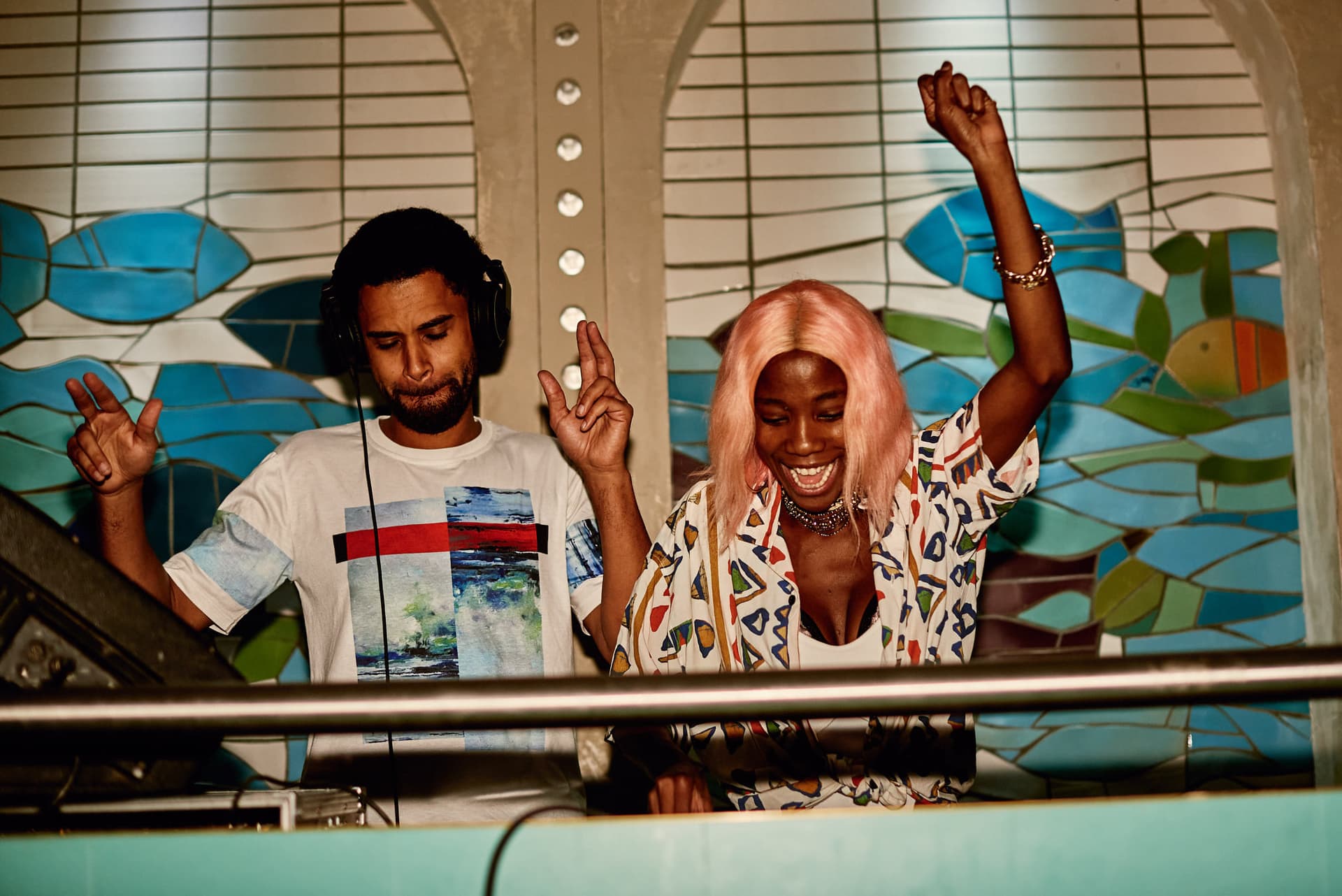 I remember when we have spoken in the past, you've also mentioned that one reason that Afrohouse is not as present in Berlin as elsewhere is because of the lack of social media in the clubs. I hadn't thought about that before.
Walter: Everybody who came to our parties, especially at Watergate, experienced a crazy party: two dance floors packed, everybody going crazy. But the outside world can't see it because in Berlin you have this no picture or video policy in the house and techno clubs. It's of course sometimes nice, you know, for the moment, but then you see other big Afrohouse events, you know, like Kunye from Shimza, and the videos always blow up. It's much easier for them to present what party is really about. It's a disadvantage but we are also doing parties in other places and will take those opportunities when we're outside the Berlin restriction bubble!
Right, you've also done a festival recently, Above & Beyond. How was that for you?
Walter: Yeah, it was dope. The idea was to show artists from different parts of the world. We had artists from Morocco, from Namibia and also a lot from from the local scene. We also had other genres - amapiano crews, techno crew. It worked really well together and showed that these different scenes can dance together and there doesn't need to be in any separation. Some new people joined the Afrohouse community and that is mission accomplished.
At Refuge Worldwide, we often think about and get asked about the idea of community and what that looks like around music, around events, and in our case around a radio station. I'm wondering what are your thoughts on that? How do you know when this kind of idea of community is working around RISE?
Ukai: I think we see it by how people come together and how they react. Going back to the festival, I was personally like "okay, just wow", because a lot of people came and a lot of people really love the sound. Sometimes you work, and you're sure if it's really going through, especially because of the reasons we just talked about with the videos, social media and so on. But on the days when people are dancing to the music, even singing some songs with us, then we can really see that it's real.
Walter: You can also also really see the community sticking together across different countries - Greece, South Africa, Angola, Georgia, wherever - we book each other. Everybody knows it's a hard fight to, to bring Afrohouse into each market, so we all respect each other's work. Each success of each person is like a success for us as well, and that's how the whole spirit of community comes together.
Well said! As a last question, I would love for you both to share one of your favourite memories from your time with RISE.
Walter: One very special moment was when we finally managed to book Black Coffee. It was unfortunate timing, in my view, because I played at the same time as him. So I started with a totally empty floor, but after a while, I managed to get a crowd, so for my personal journey that was a really nice moment.
Ukai: For me it was when we did our own truck at the Love Parade. You see maybe half a million people dancing to the sound and it really makes us proud. Different people from the black community were playing on the truck, and considering where the Love Parade came from, it was really nice to see our people playing our music. That's when I finally thought "Afrohouse is here to stay. It's time to accept."
---
Listen back to the rest of this month's RISE takeover here.