THC & CCL, Mark Ernestus and Sarah Farina - Regenerate After-Party
This Saturday at OHM
By Staff
Refuge Worldwide head to OHM this Saturday.
Regenerate Festival's after-party runs from 23:00-07:00 on Saturday night, featuring Hard Wax and Basic Channel founder Mark Ernestus, the first ever Berlin back-to-back from CCL & THC, alongside Emergent Bass head Sarah Farina and No Plastic. Patreon members please DM for Q Skip.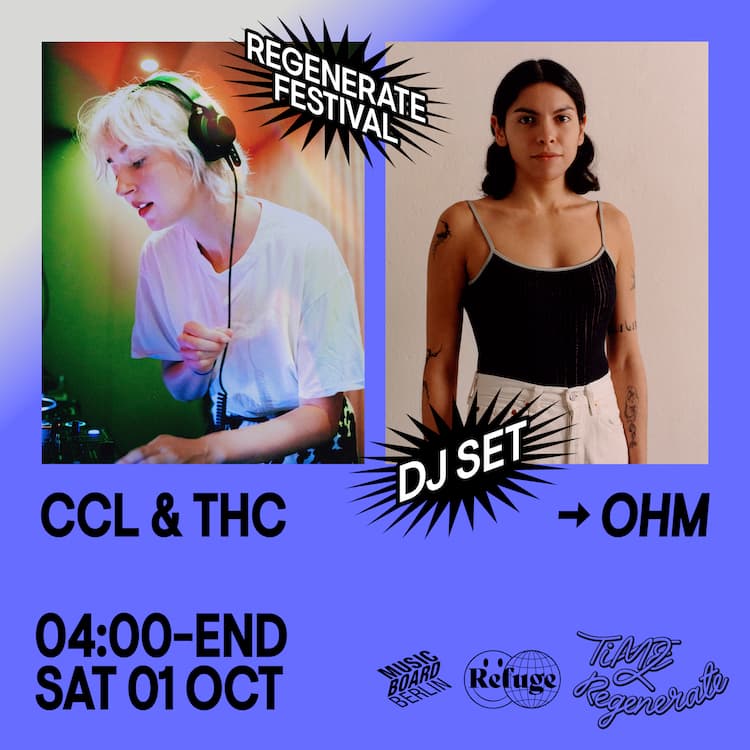 Regenerate's three-day event will start on Thursday 29th September (20:00) at Carhartt WIP's location in Berlin Mitte, where Refuge Worldwide celebrate the launch of a new Regenerate Zine, our first printed magazine, as well as a limited edition long sleeve shirt going on sale, produced in collaboration with Carhartt. There will be complimentary drinks and a DJ set from Sarah Farina, The Neighbourhood Character & MAF.
On Friday, September 30th, Regenerate takes over to Refuge Worldwide's home-base, Oona Bar, with a microphone building workshop by YA Z AN and dedicated radio shows courtesy of Thea, Nikola, BIWOC* Rising, No Plastic & Kemback, The Neighbourhood Character & MAF, Jonah Considine and Max GL & Elise.
Full festival details here.