Protest and Unity | On the Ground: Artsakh
An interview with anti-war and climate activist Arshak Makichyan.
By Johanna Urbancik
We are now almost into the seventh month of the Artsakh blockade. Around 120,000 people are being held hostage in their own homeland.
On 12th December, so-called eco-protesters from Azerbaijan started blocking the Lachin Corridor, a 13-mile, 36-foot-wide mountain roadway that connects the Republic of Artsakh to Armenia and the outside world. Those self-proclaimed climate activists, who have been linked to the Azeri government, blocked the road for 138 days until the Azerbaijani regime installed a border checkpoint. Yerevan has since claimed that the checkpoint violates the International Court of Justice's call for Azerbaijan to "take all measures available" to ensure the smooth flow of traffic without obstruction.
The Artsakh Human Rights Defender has published a report on the human rights violations during the blockade, showing that the movement of people along the Lachin Corridor has decreased by nearly 198 times, and essential cargo imports have been reduced by about 13 times. The suspension of planned operations has left around 1,400 citizens unable to undergo necessary surgeries. The suspension of the gas supply from Armenia to Artsakh for 117 days and the complete electricity cut for 154 days have led to rolling blackouts and mutliple accidents. These violations have severely affected the country's economy, causing losses of approximately 346 million USD. Vulnerable groups, including children, people with disabilities, the elderly, women and girls, and displaced individuals, have all experienced serious breaches of their human rights.
For this instalment of the On The Ground column, I interviewed Arshak Makichyan, a Russian-Armenian climate activist. He was born in Armenia but moved to Moscow with his family at a young age. He was a prominent figure in the Fridays For Future movement in Russia, where he not only protested for climate action but also against Russia's aggressive actions towards its neighbouring countries, such as Ukraine.
Arshak left Russia and joined Ukrainian anti-war protests in Berlin with the intention of returning to Moscow to protest against the illegal invasion there. However, the Russian government opened a court case against him, resulting in the revocation of his only citizenship and the deportation of his family. He has now been banned from entering Russia for the next 50 years. We caught up to discuss his activism, his achievements so far, and the Artsakh blockade.
If you want to read an interview with a resident of Artsakh, Siranush, you can do so here: Dreaming of Peace | On the Ground: Artsakh
Can you introduce yourself, tell me about your journey and how you ended up in Germany?
I am a climate activist from Russia, where I co-founded Fridays for Future Russia. I have been involved in numerous campaigns focused on climate and the environment, as well as human rights activism – in Russia everything is interconnected. Since the full-scale invasion, I have been speaking out against it. While engaging in anti-war activism with my partner, we decided to leave Russia for Germany, as we would have faced imprisonment if we remained.
While we were here, we joined many protests and advocated for an embargo on Russian gas and fossil fuels. In May, I posted on Facebook that I intended to return to Russia, and a week later, I learned about a case where the government aimed to strip me of my only citizenship. It was a strange situation.
When you're a political activist in Russia, you know something like this can happen. To be honest, I just thought they were trying to scare me. The trial was a long process, with the decision having been made in October of last year. They didn't even inform us of their ruling, which is illegal. I only found out a week later. The final decision was made on the 4th of February this year when they stripped me of my citizenship and detained my father and brother, who were still in Russia. Then I received the paperwork stating that I am banned from entering Russia for 50 years.
You have been very vocal against the war in Ukraine. Were you only protesting in Europe, or also in Moscow before the war started?
We started protesting against the war on the first day of the conflict. Before the invasion on 7 January, which is Christmas in Russia, I posted anti-war content on my social media about the deployment of Russian troops to Kazakhstan, which I was strongly opposed to. I wrote that a "New War" had stolen our New Year. 
Due to this and the coverage of it in the news, I had been anticipating an illegal invasion of Kazakhstan. My partner and I decided to get married before the war, and by accident, our wedding was on the 24th of February 2022. Marriage would provide us with extra rights to visit each other in prison.
At our wedding, I was wearing an anti-war shirt and my partner was wearing a blue dress and yellow flowers. The photo went viral on social media. We went to join a protest afterwards. In Russia, you cannot start a revolution with peaceful protests. They arrested around 1,800 protesters during the first days and carried out searches of social media accounts and flats. 
We held large protests from the beginning of the war. However, a month later, we attended a protest in the middle of March, and to our dismay, we found no crowd. The city was full of police trucks and people were being detained. It felt pointless to stay. Before the war, we had different instruments to pressure the government. We had various human rights organisations and independent NGOs. 
However, there is nothing left in Russia now. We realised that we had to change our strategy. There are grassroots partisan movements in Russia, but if you are a public figure voicing your opposition to the invasion though, you will be arrested and silenced.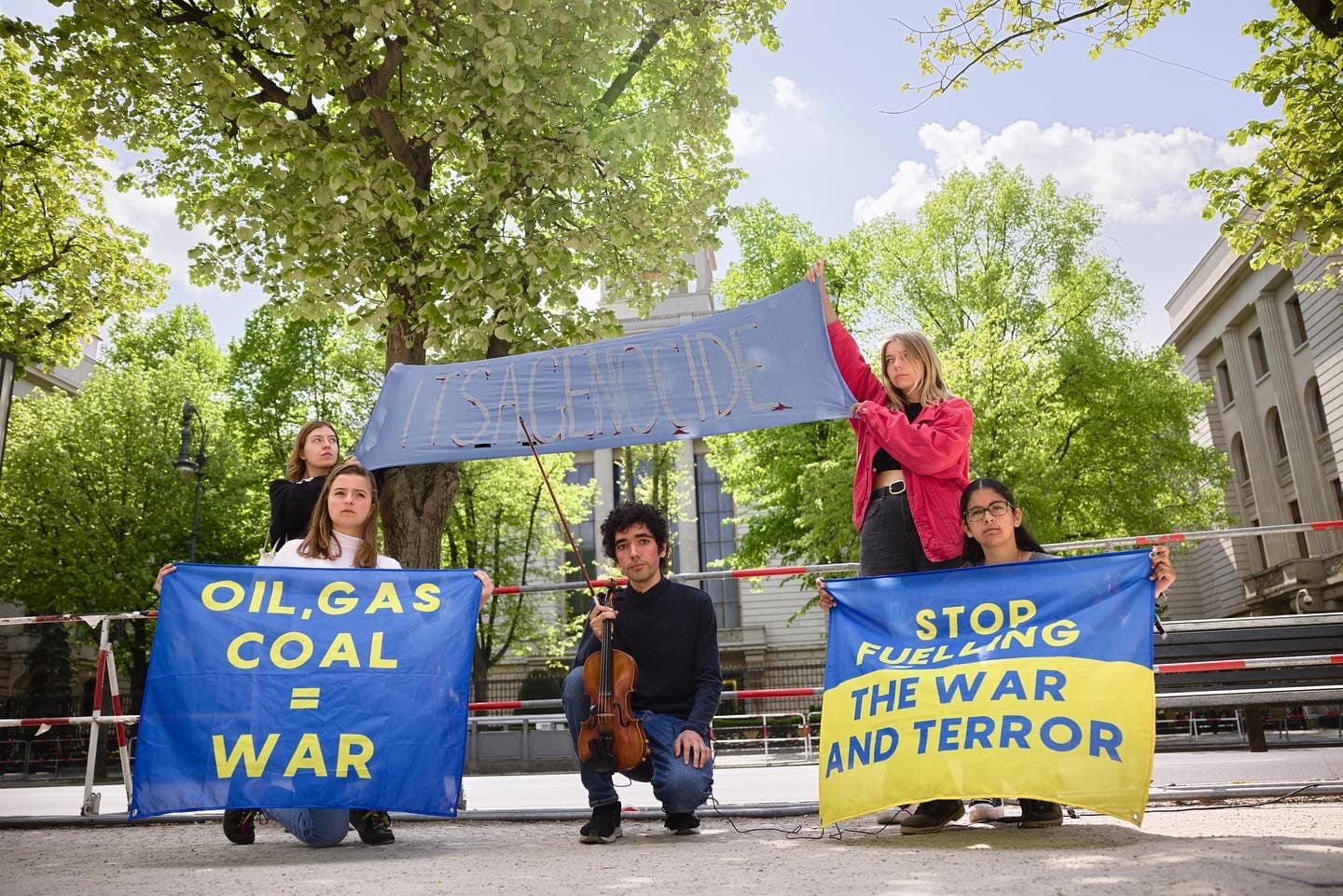 I noticed on your Instagram profile that you've been protesting here in Berlin with Ukrainians against Russia's invasion and also against the Artsakh Blockade.
Yes, I am Armenian. I was born in Armenia, and my family left because of the first blockade in the nineties. Armenian history is quite tragic. My ancestors had to flee from Western Armenia, which was occupied by the Ottoman Empire. Now, these lands belong to Turkey, and they fled more to lands that were not occupied by Ottomans by then and ended up in Alaverdi. My family had to leave Armenia because they wanted their children to have food. My family was deported from Russia in February, because of my activism.
Why do you think there's so little attention on the Blockade in Artsakh?
I really don't know. I was organising a protest with other Armenian activists and usually, there's a big crowd at these kinds of demonstrations. The crowds aren't big at the Armenian protests, though.
I think European people are too busy to support us. There is an energy crisis, a climate crisis, and a war in Ukraine. There are a lot of things going on right now, and it feels like the world is collapsing. Of course, you always care more when it's your own country collapsing – it's your life.
Additionally, the situation in Artsakh is very complicated because there is a lot of history behind this conflict. That's why it doesn't seem as important to world leaders because they want to find easy solutions for impossible conflicts. If Azerbaijan were a democracy and recognized the Armenian Genocide, it would be much easier to find a solution to this conflict. But there are no human rights in Azerbaijan. In this situation, what do you expect from Armenian people? They know their history. Many European people don't know our history, about the pogroms against Armenians in Baku, little villages or territories given to Azerbaijan by Stalin. I don't want history to repeat itself and many countries are supporting Azerbaijan because they're offering a replacement for Russian gas, but they are buying the same Russian gas – it's just flowing through Azerbaijan.
Note: There's no definite confirmation so far that Azerbaijan is selling Russian gas to Europe. There are reports that Russia's Gazprom has recently signed a new contract with SOCAR in Azerbaijan for the delivery of one billion cubic metres of gas between November 2022 and March 2023. The Russian gas is intended for the domestic market in Azerbaijan, which needs more gas now due to increased exports to the EU. Therefore, Russia is still profiting from Azerbaijan's gas exports.
To your earlier point, there's also very little knowledge or coverage of the invasion in 2020. 
Azerbaijan is occupying internationally recognized territories of Armenia. They were bombing villages where my relatives live. I think hardly anyone cares because Armenia is a small country. There are not that many Armenian people, and we cannot do anything to stop it. Russia has its own interests in Armenia because they think that this is their territory, they even have a military base in Armenia. But they don't care about people in Artsakh.
On paper, Armenia is officially allied with Russia, though. In 2020, 1,960 so-called Russian Peacekeepers were dispatched to the region as part of the ceasefire agreement to monitor compliance by Armenia and Azerbaijan.
The Russian troops are supposed to do a lot of things. The Russian government doesn't seem to like the Armenian government because it's a democracy [rank 82 in 2022, reported by the Democracy Index published by Economist Intelligence Unit]. The current government came to power after the Velvet Revolution, and so the situation is complicated. Armenia is still economically and militarily dependent on Russia, which makes it challenging for the government. While they are far from perfect, they were democratically elected and are not criminals, unlike the government of Azerbaijan.
Note: In Azerbaijan, the Aliyev family has maintained an authoritarian patronage state with them occupying the top of the pyramid. While presenting a façade of democratic institutions, including elections and referendums, the regime has been able to cling to power. Following the 2016 referendum, the president has acquired unparalleled constitutional authority.
It appears that Putin has an affinity with Aliyev because they share similar qualities. They are both dictators with a Soviet mentality, and their thinking is imperialistic. Putin claims that he is fighting Nazis in Ukraine while using an anti-colonialism narrative, yet they are actually the colonialists. Azerbaijan asserts that they have the right to Armenian land due to Azeri and Turkish colonialism, while Russia believes they have the right to all territories because of their historical claims. Unfortunately, many individuals in the West, including politicians, are being influenced by Russian propaganda.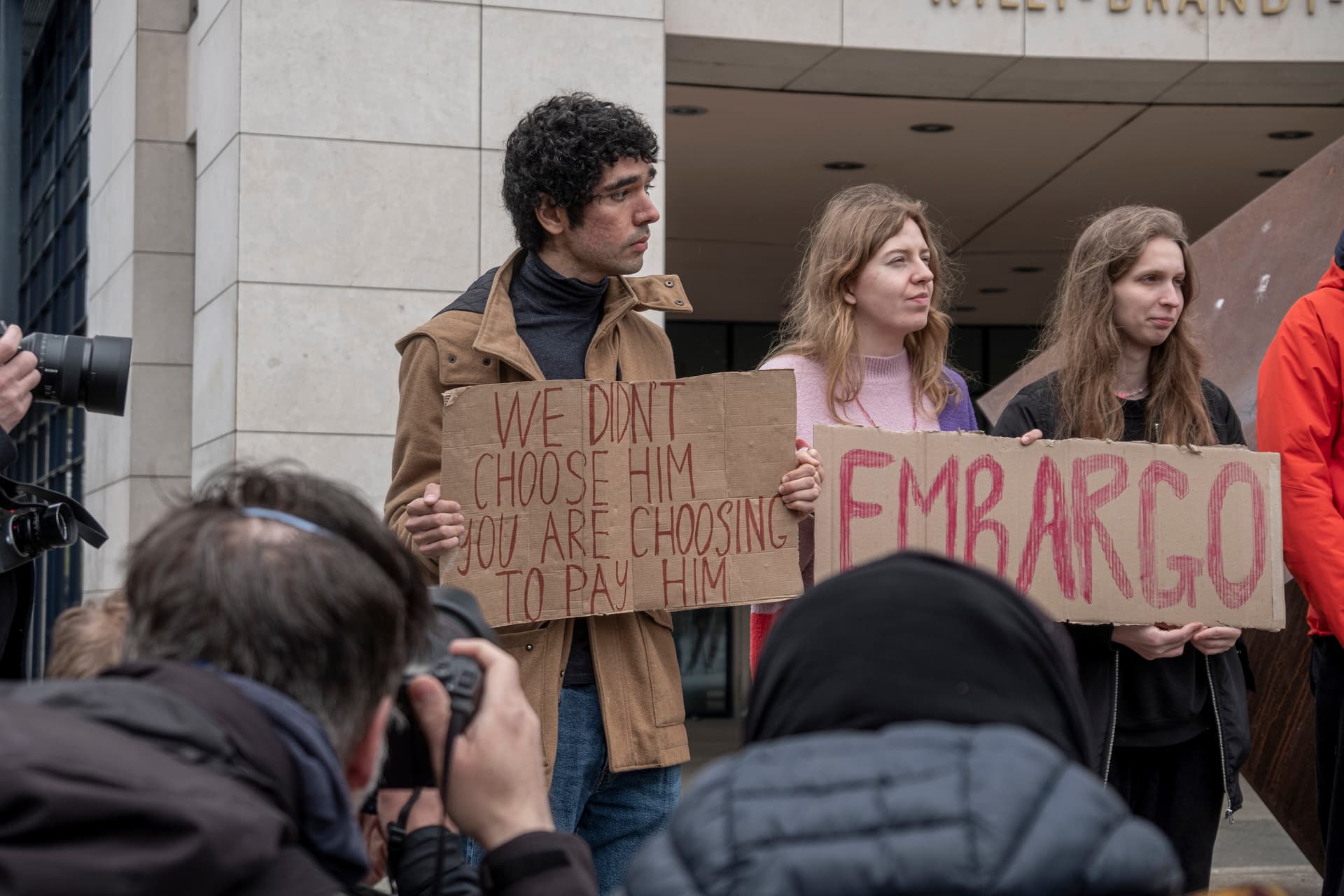 The first time I saw you was when you posted about protesting in front of a government building here in Berlin by yourself. What kind of reactions do you receive during those protests?
It was when Aliyev came to Berlin to meet Scholz. I was having trouble with the police during my protest, and they were quite rude to me. I told them that I was by myself and I didn't need permission to do anything. They were arguing that the journalist, who also happened to be there and taking photos of me, was also taking part in the protest. I've got a lot of experience dealing with the police, but it wasn't a nice experience. Mostly, I was talking to the police at that protest. Some people were asking me questions about Artsakh, but they weren't joining the protest.
What I find quite interesting is that you're an actual environmental activist and the Lanchin Corridor in Artsakh is being blocked by so-called eco-protesters. Though, it has been proven they have very little to do with the environment but more so with the Azeri government. How does that make you feel that your cause is being so misused? 
Many dictators attempt to leverage popular causes in the West to justify their actions. Aliyev uses environmental activism while Putin employs anti-colonialism and anti-Nazism rhetoric in his speeches. 
I think we need more protests, more unity, and we need to internationally organise a movement because we need more people involved. The old strategies, like putting pressure on politicians, aren't working anymore. We need more people on the streets.
Do you think that would actually change something?
As an activist, I strongly believe in it.
Can you tell me what your life looks like now?
I am currently contemplating what to do with my legal status as I want to feel safe and secure. Additionally, I am actively searching for work. In the past, I have engaged in a lot of activism, and I am proud of what we achieved in Russia. Specifically, we were able to create a climate movement and accomplish a lot of great things.
What kind of progress did you make with Fridays For Future in Russia?
Through our efforts, more people in Russia have become aware of the climate crisis and the connection between political and environmental issues. While there is still much to be done, there is some hope for the future.
To keep up with Arshak's story and activism, you can follow him on Twitter and Instagram.
Images courtesy of Arshak Makichyan.