Lilipad: Libraries and Lyrics
We are extending our partnership with Lilipad, a unique Berlin-based educational charity.
By Veronika Kailich
For the past five years, Lilipad's team of passionate volunteers have made it their mission 'to enable children in vulnerable communities to enjoy access to a fulfilling, quality and stimulating education.'
Founded in Uganda in 2017 with the goal of constructing a school library, Lilipad has since partnered with various local institutions to open seven multilingual children's libraries in Morocco and Berlin, constantly striving to create an engaged culture of reading and learning amongst children.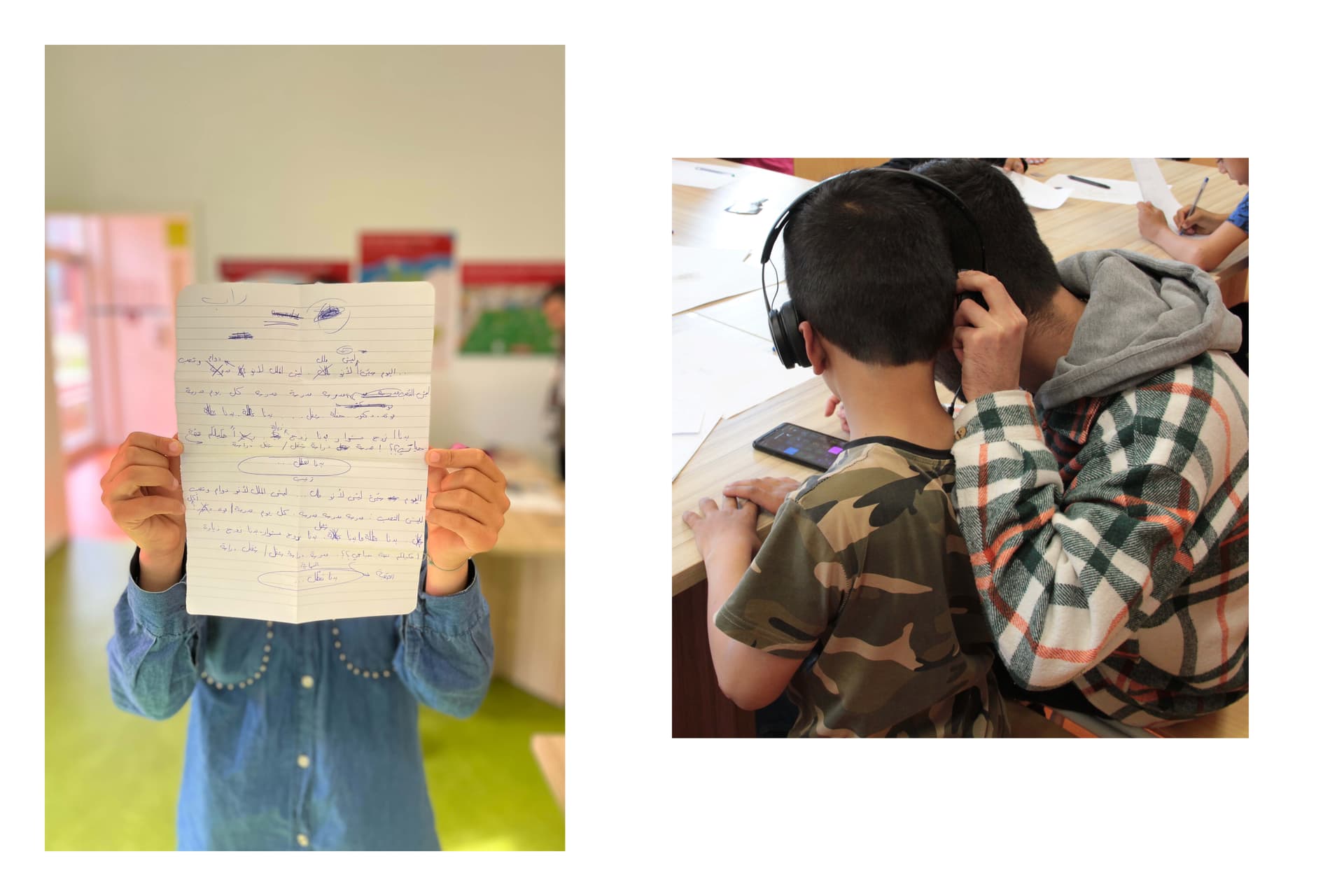 To encourage creative self-expression, Refuge Worldwide have co-organised a series of four rap and hip-hop workshops that involved teaching young children how to write their own lyrics and rhyming flows while rapping to a beat. The series, which took place at the Gemeinschaftsunterkunft in Britz, one of Berlin's largest collective refugee accommodation centres, was a hit.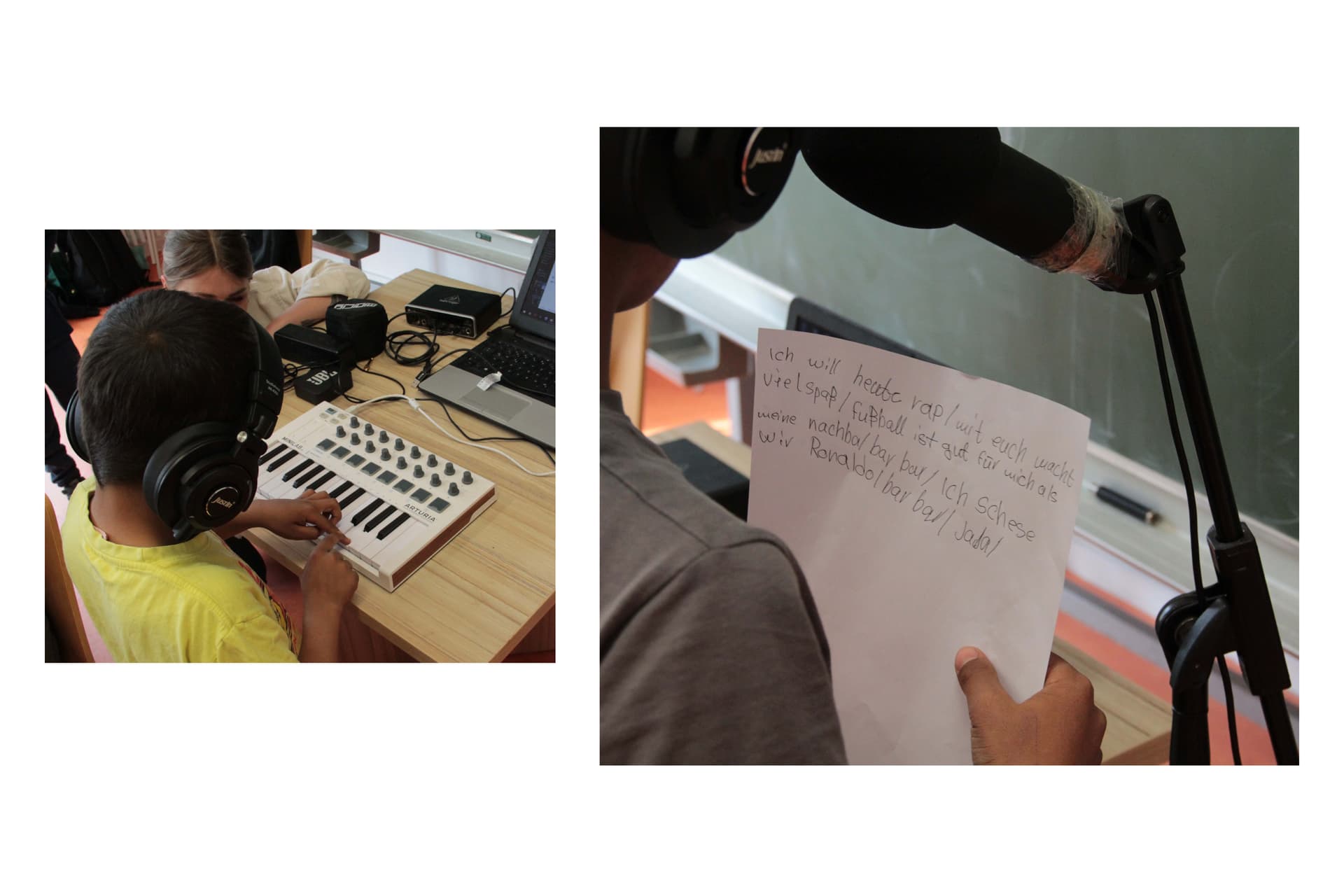 We talked to the team behind Lilipad to find out more about their experience with Refuge Worldwide and their future plans.
Tell us more about your team structure and roles within Lilipad. 
Priscilla: I'm Priscilla. I've been with Lilipad for about three years now and I joined to help out with developing and increasing the impact of Lilipad. This involves developing the educational workshops and impact frameworks, so thinking about why we're doing what we're doing. 
Eleonora: I'm Elenora and I've been with Lilipad for exactly one year now. I am the project coordinator of one of our projects: the Marzahn library. I'm in charge of running the library, so it's all about the communication with and meeting the needs of our partners there, taking care of the books/inventory, and coordinating all the events.
Serafina: I'm Serafina and I joined Lilipad in November 2021 as a project coordinator for one of our libraries in Britz. Since January, I took on expansion, which involves finding locations for new libraries and following up on the process of opening them. I also work on institutional fundraising, which is basically writing applications for grants that are not corporate fundraising. 
How many people are involved in Lilipad in total?
Priscilla: We are 11-12 people. We're mostly a volunteer-run organisation so most people have their normal day-time jobs and then they volunteer on the side with Lillipad. We have a core team, mostly made of volunteers, and then a couple of us are starting to freelance as well.     
How did the Lilipad project come to be? 
Priscilla: Our founder Sara started it in 2017. The concept originated from one simple motivation: to reduce some of the social injustice in the world. Having grown up in Morocco and been empowered by books in her own way, it was easy for Sara to decide that education should be the main area of focus for Lilipad. And so the organization was formed around the idea that we could provide books to children in vulnerable communities. Since Lilipad is based in Berlin, it naturally developed here as well. The idea was to provide more access to books for children who wouldn't otherwise have the opportunity––whether because they are in rural areas, low-income communities, or refugee or migrant communities. 
It's not just about creating access to books but about having a learning and educational space where they can grow and develop (and that are welcoming and safe for kids). And hopefully providing them more opportunities for the future. A nice thing about our libraries is that they're inclusive, multilingual, and diverse, so whatever that looks like for different contexts, we try to instill those values. In Berlin, that looks like having multilingual libraries and mother tongue language books. We make sure that the books we provide match the needs and languages of the communities. 
Eleonora: Also, we're really striving to make reading attractive and fun, and to get the kids to get used to this library as an institution. Because we work in the so-called Gemeinschaftsunterkünfte, where the families are living, I think it really makes a big difference to have this exposure. Even if some kids say "I don't like reading," they still have the opportunity to hang out there and have this community.
Are all the books donation-based?
Serafina: No. We have some donations, but we mainly buy them with our budget. We are always very open to receiving donations. German books are easier to get donations, but in order to get Arabic or Farsi books, for example, we pretty much have to buy them. 
Last month, Refuge Worldwide and Lilipad co-hosted a rap workshop at your Britz library location. How did that go?
Serafina: Some of the kids were actually familiar with rap and they were really happy to experiment. We managed to gather 3 different texts. It was kind of a trial run because it was the first time Mo (an Iranian poet, music producer, and rapper) and Taha aka 6ahaaiwa  (a Syrian rapper, lyricist, and music producer) were giving the workshop to very young children. We had one song in German and one in Arabic. It was definitely a learning experience and a good place to see how we can improve it for next time. Some of the kids were really into it and I'm curious to see how it will develop tomorrow because we have a second appointment with them.
Priscilla: The nice thing is that Taha is an Arabic speaker and Mo is a Farsi speaker, so we also wanted to ensure that the hosts could have that language connection with the kids. 
Your core programs include connecting with local institutions and building libraries. Could you tell us more about these processes?
Serafina: We are now in the process of opening three new libraries in Berlin. As Elenora was saying, we partner with Gemeinschaftsunterkünfte (GU), which are essentially refugee shelters, and it's a very small world. All the staff from different locations know each other. So it's a pretty solid network. They talk about us with their colleagues and reach out to us and ask if we are interested in opening a library there. I get in touch with them, and we have a call where I present the project. It's kind of slow because we are in contact with the coordinator of volunteering at the GU. They normally aren't working full-time, and they're also responsible for other partnerships. So it takes some months to actually create a date for the opening. Once we've secured a location, we find a free room in the unterkunft and place bookshelves, fill them with books, and make it cosy and inviting. Once we have the library, we find volunteers who are in charge of opening the library once a week. Afterward, we try to find a workshop with a specific theme each month.  
Another pillar is providing long-term support. What does this entail?
Priscilla: It's basically referring to having these educational workshops and making sure we keep the library as an active and engaging space. So that's also ensuring that there are volunteers, the library is open, the book supply is stocked, we host ongoing workshops, offer reading engagement, etc. We are trying to train our volunteers on how to better engage the kids in reading. This also requires more of an educator's perspective, so we're trying to get experts to help us develop that. We're in the process of creating a reading engagement guide that the volunteers can refer to so that they can have the resources and strategies to not only engage the kids but get them excited about the material. It actually takes a lot of preparation, skill, and effort if you want to have a greater impact on the kids. And we have an educator who is helping us research this and develop this material. 
Your website mentions the use of the adaptive methodology. What is this approach and how does it operate for each local community?
Priscilla: The adaptive methodology is our working model that refers to adapting to the context that we're working in and responding to the needs that present themselves. For example in Uganda, they had more basic needs when it came to having curriculum books and school supplies. To just be able to go to school was a need. It's not just the curriculum and tutoring, but it's also about adding the fun books and getting them more engaged in reading for fun. Then there's the additional thing that it's not just about books themselves but learning in general. So the library operates as a space where we can engage them in other types of activities and learning. It all has the purpose of their growth and development–– whether it's developing their self-confidence, skills that might be useful for them in the future, or their literacy skills. I think that's what we mean by adaptive. It's working with the different country content and various needs of the groups we're working with.
You've already established local partnerships in Uganda, Morocco, and Germany. Are there any further locations or educational programs in the pipeline?
Priscilla: I think our focus now is definitely Berlin because there is so much need and it's a lot more fluid here. Our growth is very organic in Berlin. Obviously, we have more ideas for expansion, but maybe that's a bit more in the future. 
How can volunteers get involved?
Serafina: We always need volunteers in the libraries,
volunteers who engage themselves as librarians. Because of how life has been since the pandemic, it is really hard to find this. But it's really important for the children to be able to rely on someone who is showing up every week.
Eleonora: This is one thing that the pandemic has had a huge impact on, volunteering. The fact that people expect to be so mobile and flexible really takes a toll. We spoke with our partners and they're also having a hard time finding volunteers. This is something to think about. 
Priscilla: We'd love to have more people willing to host workshops, too. Obviously, it has to
be a good match and fulfill our mission. It's quite broad, but as long as it's contributing to the kids' growth and development, anyone who has that skill is welcome to come. It would also be nice to have someone who's not a one-off but can offer a series because that would create a bigger impact on the kids. Also, any Arabic or Farsi speakers who have availability during the daytime and who would like to read to children is a very needed area of volunteering.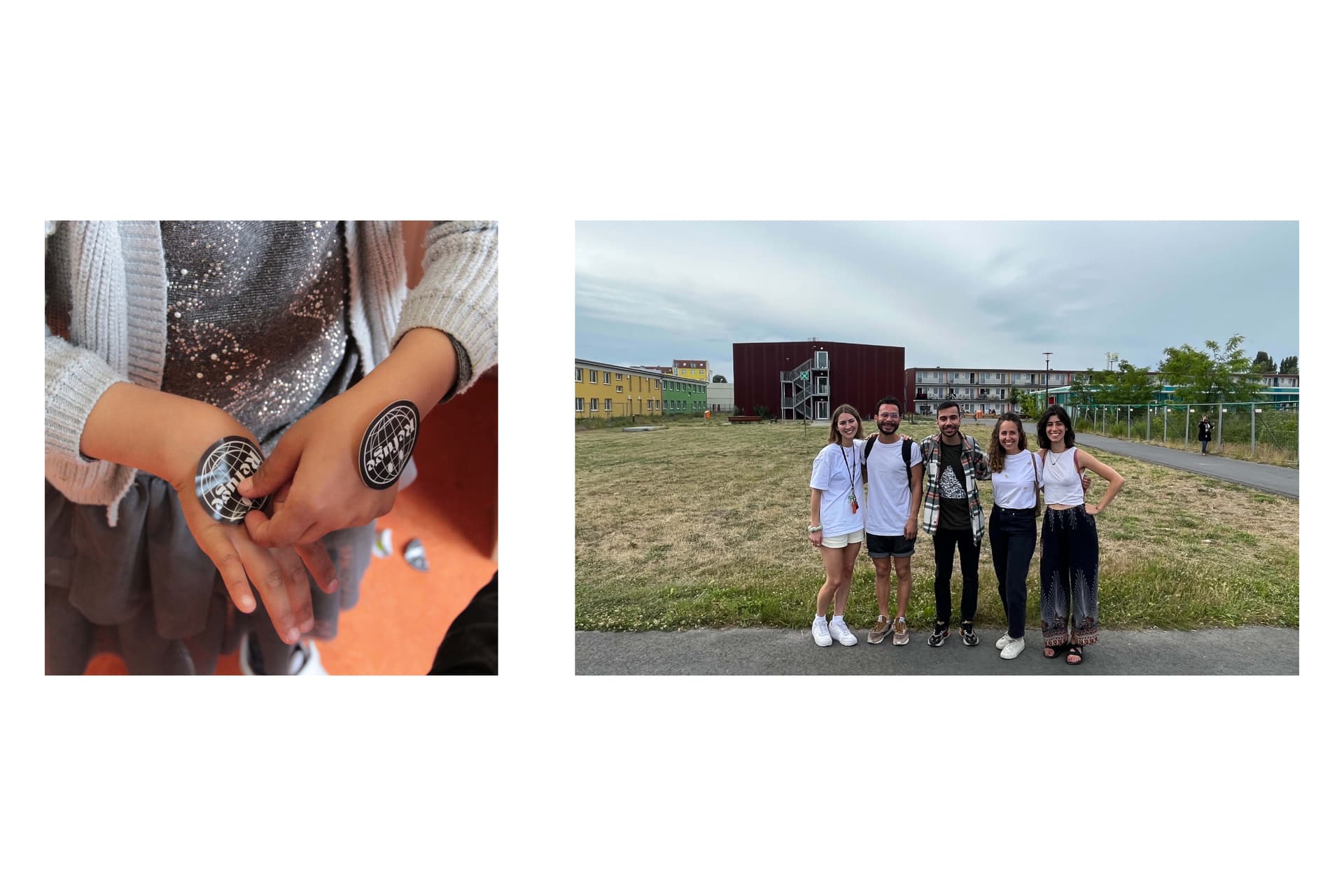 We are extending our partnership with Lilipad to organise more rap and hip-hop workshops for children as well as provide the inspiring organisation with 100% of the funds generated through the Refuge Worldwide Patreon. To top it off, we plan to give the participating children a chance to have their own creations professionally recorded. 
Head over to our Patreon page and subscribe to support Lilipad in its mission! Learn more about Lilipad on their website or follow them on their Instagram.
Photos by Gaby D'Annunzio.