ICYMI | #107
Nigeria's Shell lawsuit | Syria/Turkey earthquake | Support Sea-Watch
By Staff
Our weekly roundup of stories you may have missed.
Nigeria 
A group of almost 14,000 people from two Nigerian communities have sued fossil fuel giant Shell over the devastating pollution of their water sources and the destruction of their way of life due to oil spills. Aside from the loss of food and livelihoods, lawyers state that ingested pollution is causing serious health problems and rising mortality rates. Shell argues the company bears no responsibility for the illegal siphoning of oil, which they claim is the leading cause of spills.
Emergency appeal after earthquake in Syria and Turkey
Widespread destruction has struck Turkey and Syria following two earthquakes of 7.8- and 7.7-magnitude respectively within the space of only 12 hours. The combined death toll for the first quake alone currently stands at over 5000 and is only expected to rise as search and rescue operations continue.
Molham Team, the White Helmets and many humanitarian agencies have launched emergency campaigns after widespread destruction in Turkey and Syria following two earthquakes. Search and rescue operators have rushed to the region but face difficult conditions as the death toll rises significantly. Displaced people are in dire need of help to secure alternative housing and basic needs.
If you're able to support click here.
Myanmar
It's been two years since Myanmar's military junta came to power, and the country's humanitarian crisis remains one of the world's most neglected and underfunded. An estimated 17.6 million people are in need of humanitarian assistance and 50,000 homes have been destroyed in brutal crackdowns by security forces. Military violence against the country's Rohingya population since 2017 has forced over 1 million people to flee to congested camps in neighbouring Bangladesh.
Thursday: Soli Küche for stop deportation center BER
On Thursday, No Border Assembly are organising a Soli-Kitchen event at KIEZLADEN (Sonnenallee 154) to support the campaign against the new deportation centre at BER Airport. There will be food from 18:00 and a discussion with activists from 20:00 about the new centre and the protest camp. All donations will go towards Stop Deportation Center BER and a friend who needs to cover expenses to remain in the country. Follow No Border Assembly to find out more.
Italy's Sea Rescue Decree
Italy's new sea rescue decree is making it more difficult for humanitarian organisations to save lives in the Mediterranean. The decree prohibits ships from carrying out multiple rescue missions at once and forces NGO ships to take rescued migrants to faraway ports in Northern Italy. Last week at least 10 people making the Mediterranean crossing died off the coast of Lampedusa, southern Italy. A Sea-Watch spokesperson has called the ruling 'a call to let people drown.'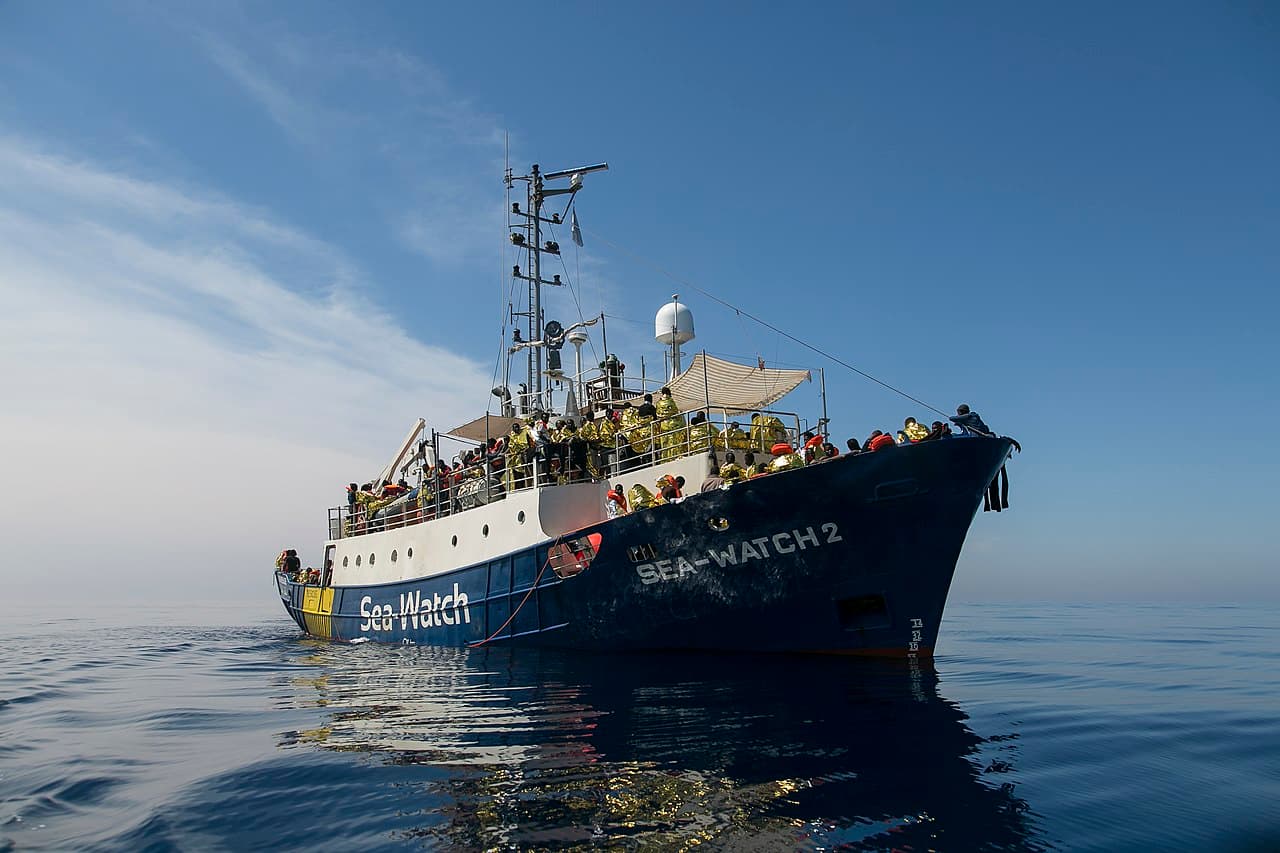 Sea-Watch is looking for support
Sea-Watch needs your support to continue its vital rescue work in the Mediterranean. The NGO has been involved in the rescue of over 35,000 people since 2015, and is now facing harsh crackdowns and criminalisation by EU border state governments. Head to their IG to find out how you can help by donating, fundraising, volunteering, working or helping to raise awareness.
Rainbow Disco Club 2023
Rainbow Disco Club festival in Japan returns for a 2023 edition and has announced the full line-up including DJs such as Ben UFO, Chaos in the CBD, Jeff Mills and a b2b from DJ Nobu and Eris Drew. We will be a media partner and share some exclusive new sets from residents, as well as recordings from last year's festival. Tickets and more information are now available on RA.
Mmakgosi Kgabi to host storytelling workshop
On 20 Feb, Mmakgosi Kgabi is hosting a storytelling workshop at Oona, exploring compositional strategies for storytelling through improvisation and deep listening. Mmakgosi is a dancer, dramaturg, director, DJ, voiceover artist, writer, producer, film actress and Refuge Worldwide resident. Sign up now to attend.
---
Cover image licensed under the Creative Commons Attribution 2.0 Generic license.
'The Sea-Watch 2 crowded with survivors covering themselves in rescue blankets', licensed under the Creative Commons Attribution-ShareAlike 4.0 International license.