Migrantifa Berlin: 'Everyone has a political consciousness'
Dina Elsayed talks to the Berlin protest group about community organising in the aftermath of Hanau.
By Dina Elsayed
As Migrantifa Berlin, people of migrant descent across various communities organise together.
Formed in the aftermath of the Hanau terrorist attacks of 19 February 2020, when a white German man killed nine people in a racially-motivated massacre, Migrantifa has been embedded since its inception in the fight for justice and accountability for the victims of Hanau and their communities.
While they have become a recognisable participant in the city's antifascist demos and marches, Migrantifa is also focused on various aspects of community organising through smaller-scale events and food distribution. In November last year, they opened a physical space, Roter Lilly Kiezladen at Emserstr. 114 in Neukölln, which they share with Stadtteilkomitee Neukölln and Bloque Latinoamericano.
We caught up with the anonymous organisation about their various neighbourhood activities and their plans going forward as the group continues to grow.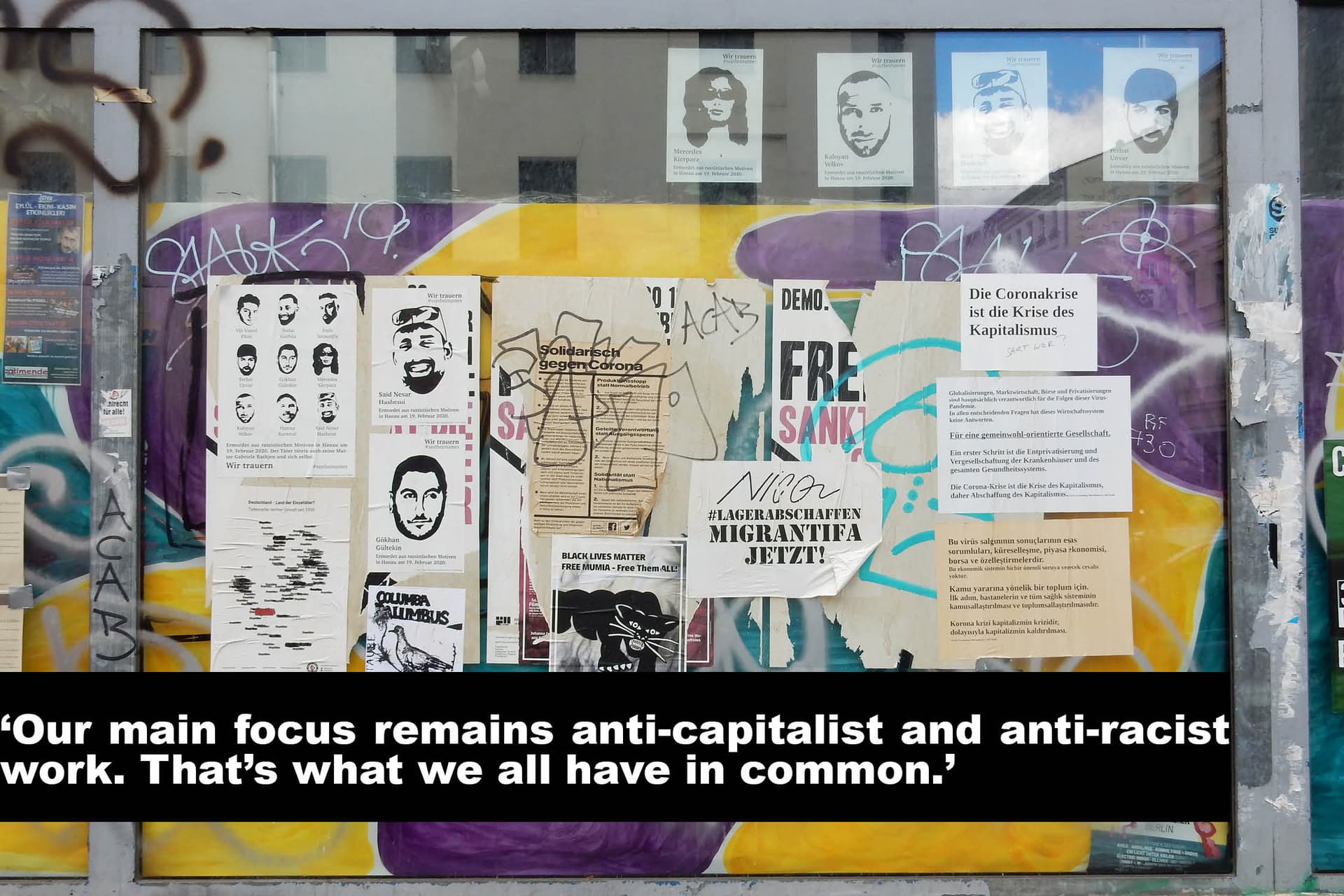 How did Migrantifa come to be? What's the background of the core group and how did the idea of Migrantifa crystallise?
The initial spark was the Hanau attacks in 2020. At the time, the idea was to go on a general strike. Then the pandemic happened and things went on hold for a while. And at some point, we started to assemble again to discuss how to move forward with our idea - it was all online.
We were a bunch of mostly migrant people who were experiencing racism already, but this was a turning point and wake-up call for many of us, especially for the younger generation. We all felt this immense shock, and it really turned into a collective memory of anger and togetherness.
We all agreed, this went too far and something needed to be done immediately. At the time, a few of us were already organised within very different migrant organisations in Berlin and had been doing anti-racist, grassroots work for many years.
Our first action was a demonstration on a boat against racist and fascist structures. It was a special event as it was the first time for us to meet each other after having organised it all online. It was both crazy and empowering. That was the very first manifestation of Migrantifa Berlin. 
You've become quite a recognisable body in various demonstrations in Berlin. Do you consider that your priority?
I don't think that was the plan, actually! Our initial boat protest was just what we could do during the pandemic. There was so much frustration and anger and it just had to get out. More people started to attend our meetings and we started to be more active in rallies, but at some point, we shifted our focus to our community.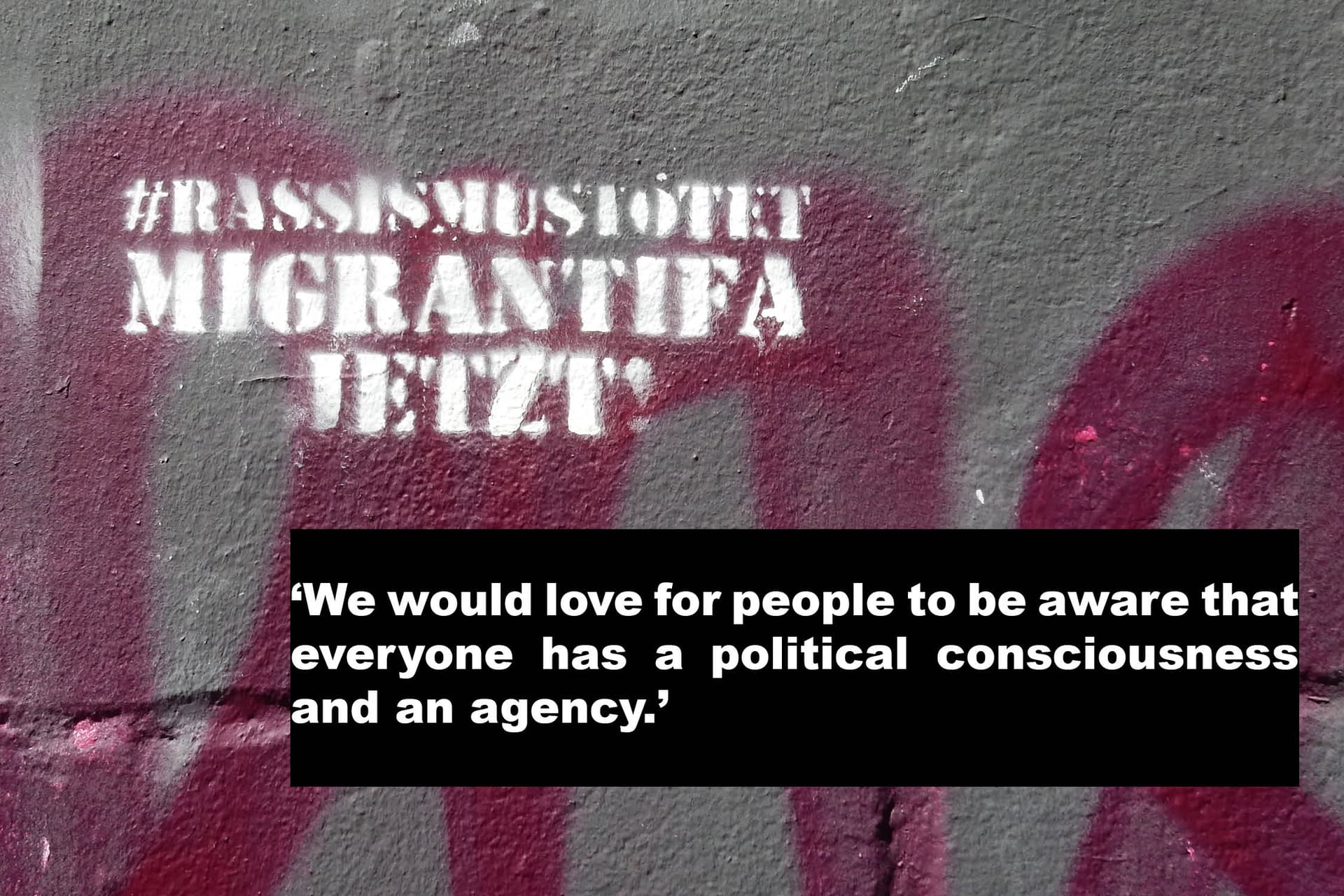 Tell me more about this shift. What are you keen to focus on with regard to the community?
One thing that we do is food distribution, so, across different neighbourhoods, we organise food distribution actions once a month where people come by and get food, and there's usually someone cooking, making soup. There's coffee and tea, and also different hygienic products. It is really nice because we try to involve people. For example, one time we arrived late to the event, so members of the community were already there and had already started distributing the food. And now, there are regulars and familiar faces. We know them and they know us. They talk to us about their lives and what they're going through. And people want to help. There's a strong feeling of togetherness. 
What's your main goal there? Other than helping those in need, of course?
Connecting the community. We are just trying to create a space for people to meet, and we support them where we can. I mean, we are only there once a month. But people still show up. We value these small little moments when we meet and connect and bond over these small little chats. This takes a long time to evolve relationships like this, so we are learning along the way. 
In the bigger picture, the way this community connects has shown us that we don't have to rely on the state and police to help us because they won't help us anyway. What we can do is organize and build a counter structure.
What has been the response from the community to your presence and the various campaigns you work on?
Very supportive in general, but the response varies depending on the topic. When it comes to issues like inflation, people respond very well as it's something that directly affects their livelihoods. Also, with regard to the Hanau attacks, we have found that there is still so much anger, and people in the community express their anger clearly. In general, we have found that people are simply happy to share their thoughts and views and have a space to express their frustrations.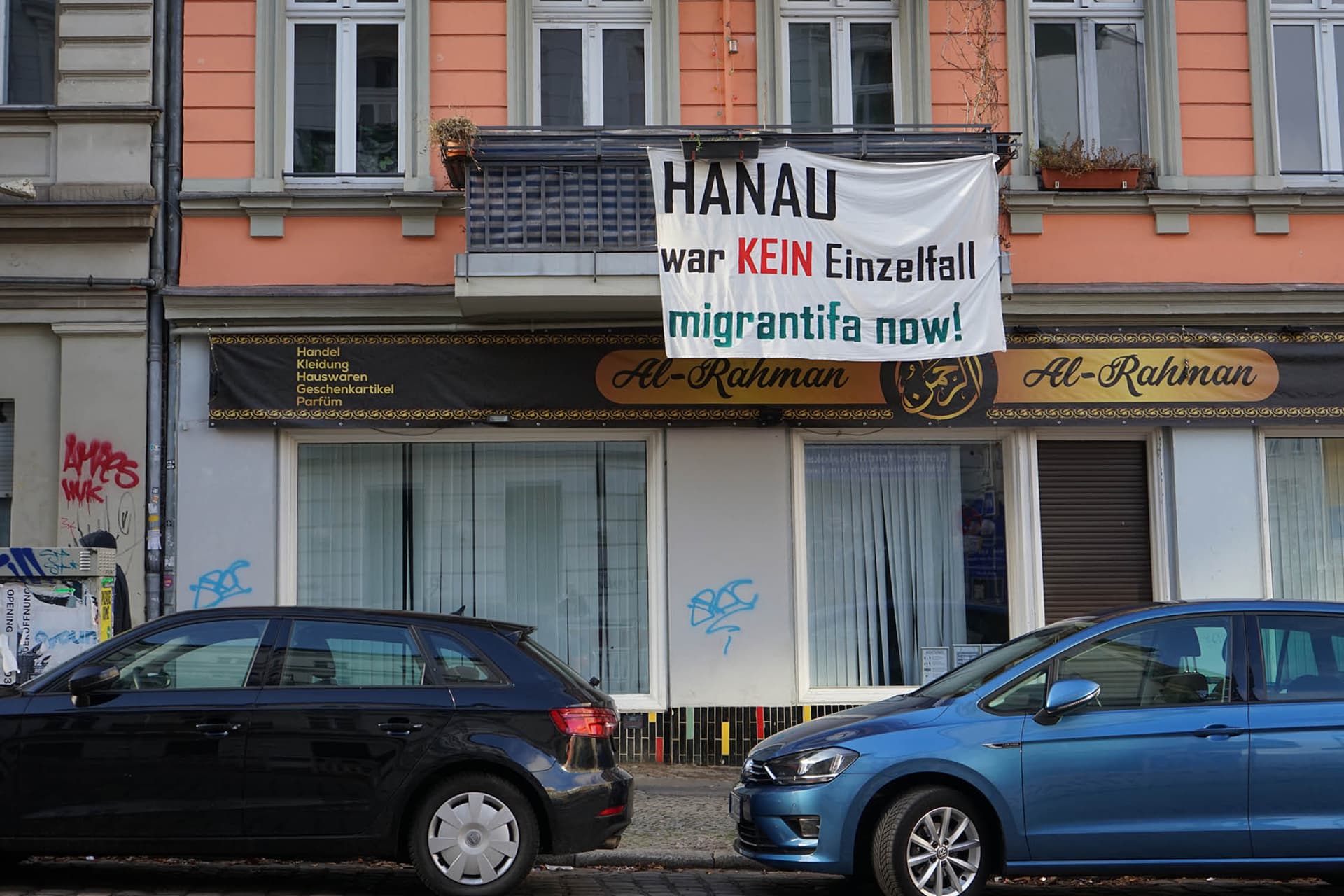 What issues or topics are on your agenda for the next year?
I think the focuses in the group are quite diverse, because people come from different backgrounds with different experiences, and are politicised under different influences. So it really depends. We have multiple working groups, some planning campaigns that focus on anti-racism, and some focus on queer and trans politics. In general, our main focus remains anti-capitalist and anti-racist work. That's what we all have in common.
I would also like to stress that Hanau remains the one issue that brought all these topics together. It was the crystallisation point for our work, including on topics like inflation, food security, environmental justice, patriarchy, and workers' rights. This will continue to be our focal point. 
Activity-wise, we have taken a huge step in opening our Kiez Laden at Emser Str. 114 with Stadtteilkomitee Neukölln and Bloque Latinoamericano. Now we finally have a physical space! It will make the food distribution efforts a lot easier and it will just be a space for people to meet and talk and come together.
What change would you like to make or see happen?
One topic is the political involvement of youth, especially younger migrants. We would like to make sure there is a space for them to express their views and be safe, not in fear. Also the idea of self-organisation for the community in general.
We would love for people to be aware that everyone has a political consciousness and an agency. There are so many reasons to be angry. We should all be angry. Let's be angry together, but we can also take care of each other, self-organise and shape our community together, without having to rely on state institutions or relying on the police to save us and protect us. 
Throughout your engagement with the community, what did you find are their desires and needs? What is your community longing for?
Whether you grew up in Germany or whether you are a migrant in Germany, no one really asks you or cares about your experience, how it has been, and what it feels like. It's often like we should just be happy to be here. So people just want a chance to talk about this to be heard and to connect with others with whom they can relate. And that's exactly what we would like to provide our community with.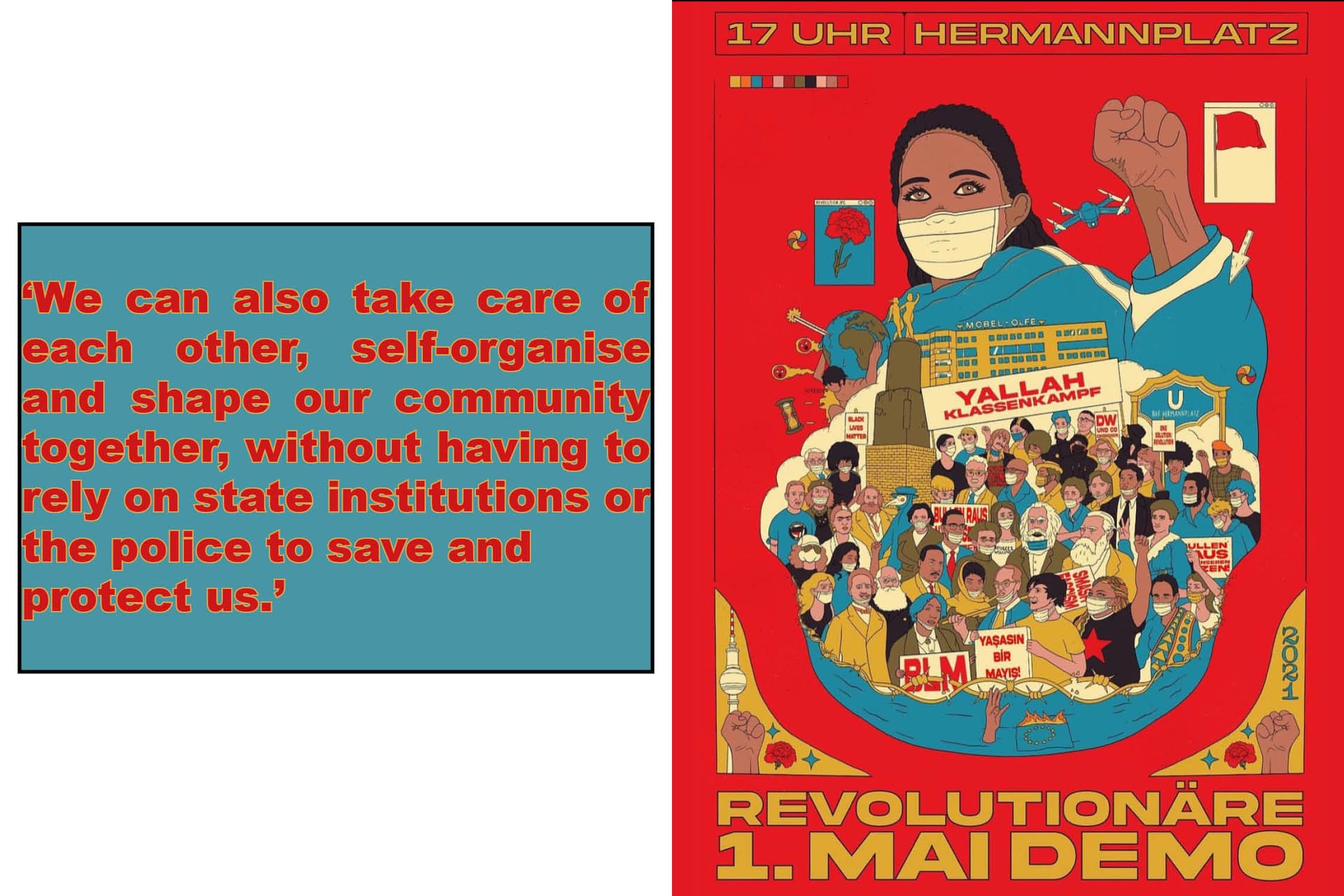 ---
Keep up to date with Migrantifa Berlin on Twitter and Instagram. If you'd like to get involved, Migrantifa Berlin hold an open cafe event for newcomers on the last Wednesday of every month at Rote Lilly.
Images by Julia Tulke (1, 2) and onnola licensed under Attribution-NonCommercial-ShareAlike 2.0 Generic License.
Layout by Kolja Tinkova.