ICYMI | #112
20 Years Since Iraq Invasion | Vjosa River | Berlin Coalition Talks
By Staff
Our weekly roundup of stories you may have missed.
20 years since the Iraq invasion
20 years have passed since the US-led and UK-backed invasion of Iraq. The invasion caused the death of hundreds of thousands of people, displaced millions more and triggered a cycle of violence and instability in the region that continues to this day. It also generated trillions of dollars in profits for US and European defence contractors and oil companies. The American and British politicians who lied to justify an illegal invasion and oversaw widespread human rights abuses have avoided accountability for one of the century's greatest atrocities.
Wild river national park in Albania
In a historic win for river protection, the Vjosa River in Albania, one of the last wild rivers in Europe and home to over 1000 plant and animal species, has been declared a national park. The project was established to safeguard the Vjosa and its unique 31,500 acres of natural ecosystems after an almost decade-long campaign. There are hopes that the move could establish a blueprint for protecting wild rivers elsewhere.
Malawi cyclone
More than 500 people have died in Southeast Africa in what might be the longest-lasting tropical cyclone in history, starting in late February and continuing to ravage Malawi, Mozambique and Madagascar. Hundreds of thousands have been left homeless or displaced by floods, landslides, and heavy rains. Malawi and Mozambique already faced cholera outbreaks before the storm, and there are fears that flooding could aid the spread of water-borne diseases.
War crimes arrest warrant for Putin
The International Criminal Court has accused Russia of committing war crimes, issuing an arrest warrant for Vladimir Putin and Russia's commissioner for children's rights, Maria Alekseyevna Lvova-Belova, over the forced deportation of children from Ukraine. Russia does not recognise the court and does not extradite its own citizens, and although it remains unlikely that the warrant will be executed soon, it could prevent Putin from travelling to other countries without fear of arrest.
Malta accused of ignoring distress calls
Following last month's deadly shipwreck off the Libyan coast, Maltese authorities have come under fire for their repeated failure to save lives at sea. According to the director of the Aditus human rights foundation in Malta, the country has "adopted a migration strategy that leaves men, women and children to drown or foists the responsibility onto other EU member states." Malta and other Mediterranean states like Italy have taken an increasingly hardline stance towards migration and humanitarian rescue missions in recent years. Last year SeaWatch and other organisations released a statement demanding more from Maltese authorities, while the UN has criticised the "horrific" conditions in Maltese detention centres.
France strikes continue
Widespread protests continued across France over the weekend after president Emmanuel Macron decided to bypass parliament and use executive powers to push through his controversial pension reform bill, which includes raising the retirement age by two years. Further strikes in the transport and education sectors are planned for the next few days, and protests are expected to continue in cities across the country despite heavy-handed police response.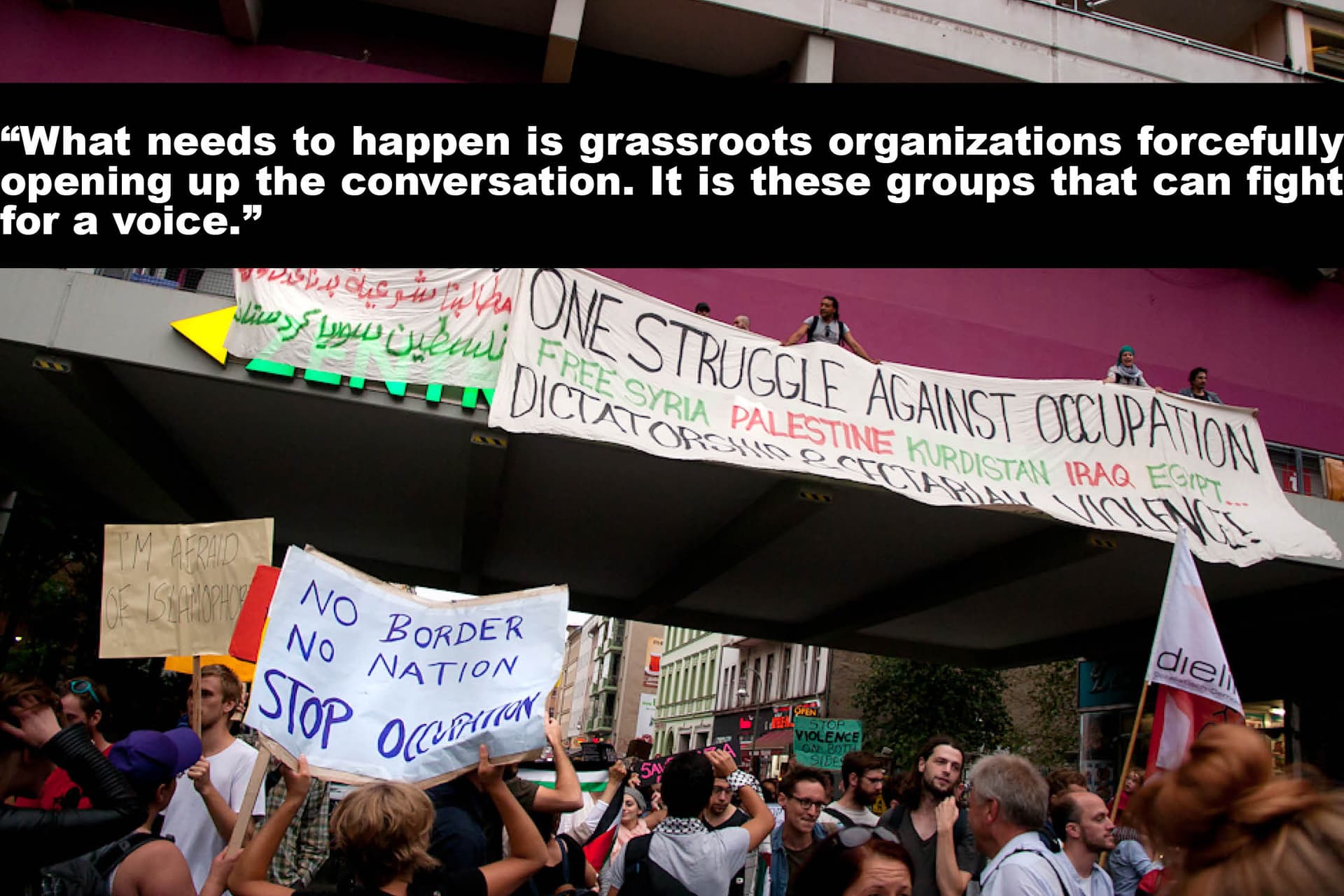 Hebh Jamal
Check out our latest interview feature with Palestinian-American journalist and activist Hebh Jamal, who has spent the last few years documenting and reporting on the repression of Palestinian perspectives in German politics and media. Interview by Joshua De Souza Crook.
Resistence to CDU/SPD coalition in Berlin
Following last month's repeat Berlin election, the CDU and SPD are still in coalition talks with the announcement of a new government expected at the beginning of April. There were protests in Berlin over the weekend, with many activists calling the prospect a 'conservative step-backwards' for the city. 17 organisations, including Bridges over Borders and Deutsche Wohnen & Co enteignen, have written an open letter in opposition. Head to Berlin Zusammen to find out more.
First Nations sue Canadian government
Ten First Nations have issued a lawsuit against the Canadian government over the loss of language, culture and tradition inflicted on communities by the First Nations child-welfare system and the "mass scooping" of children into state custody from the 1950s-80s. Lawyers argue that harm was inflicted not just on the individuals but the entire community, with intergenerational trauma, addiction, and poverty all resulting from the practices of the federal government. 
---
Cover image licensed under CC BY-SA 2.5.