In Limbo: the war-torn dreams of BIPOC students who fled Ukraine
Liv Stroud speaks to students across Europe caught in a web of bureaucracy and racism.
By Liv Stroud
When the first bomb exploded on Ukrainian territory on the morning of February 24, 2022, it sparked the largest refugee crisis in Europe since the Second World War.
According to the UNHCR, some 7.4 million people fled the country. Ukrainian government data from 2020 puts the number of international students at over 75,000, around half of whom moved to Ukraine from the African continent and India alone.
Seven months since the start of the invasion, many of the BIPOC students who were forced to abruptly halt their studies have been caught in limbo, unable to return to their countries of origin, adrift in an ocean of paperwork and waiting for processes outside of their control.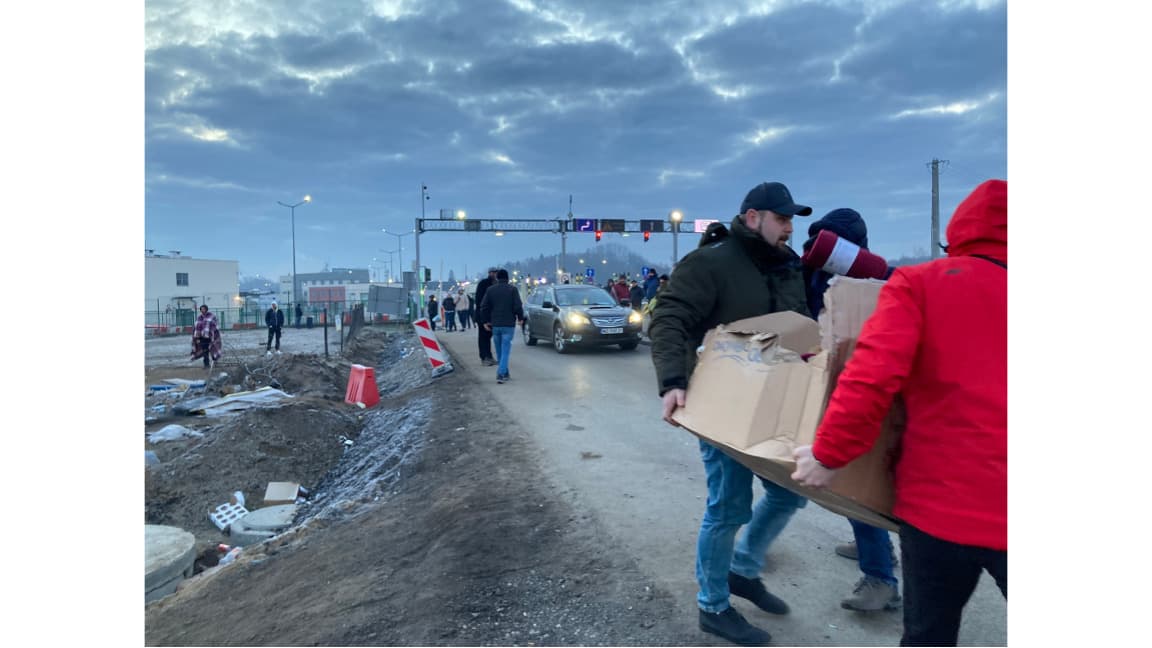 (Medyka on the Ukraine/Poland border at the start of the war. Photo: Liv Stroud)
BIPOC people forced to wait at the border
Ahmed, a Palestinian second-year medic who was studying in Kharkiv, fled Ukraine shortly after the first Russian attacks. He bundled his British shorthair cat into a carrier and stuffed all he could into a couple of suitcases. Many students paid hundreds of dollars to get from the western Ukrainian city of Lviv to the border. Some walked between 20-100 kilometres. Ahmed had to abandon his suitcases somewhere along the way. 
After a gruellingly long train journey, he was expecting a quick exit into safety through the Medyka border crossing. But for five days, Ahmed and his friends were forced to wait in sub-zero weather to cross, while white Ukrainians were prioritised and shuttled through.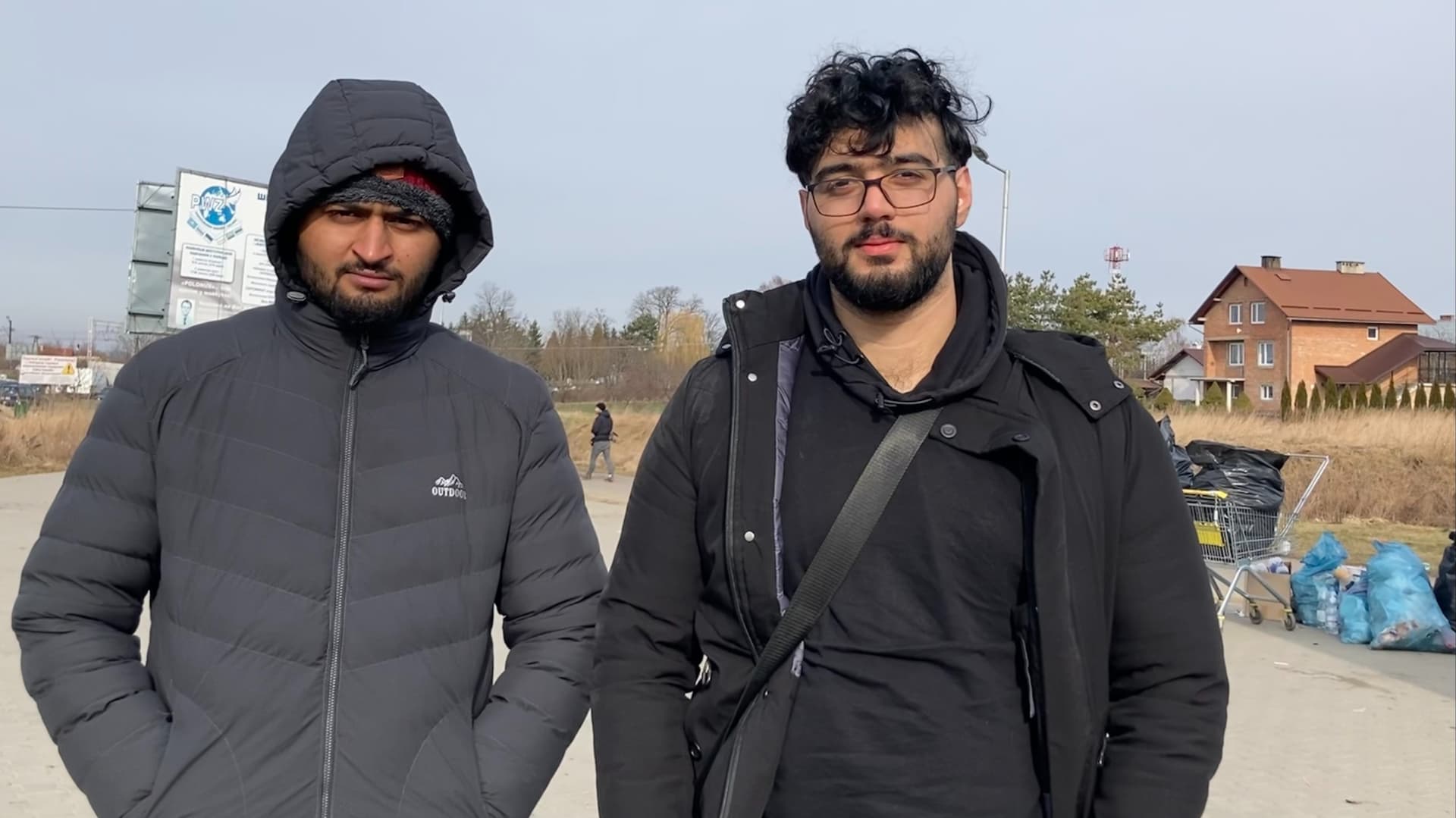 (Mohammad (left) and Ahmed (right) at the Medyka border crossing at the start of the war. Photo: Liv Stroud)
"Some people hadn't eaten in five days. I tried offering all the food I had... to the point where I wasn't even eating," Ahmed says. He gave most of his clothes to another refugee who was "almost freezing to death." He adds that some of the people began to hallucinate since none of them had slept in four days. They were all over-exhausted, forced to sleep outside without any shelter from the elements.
Ahmed recounts: "I tried making fires, but the border guards would put them out as soon as they saw them, and started shouting at us that they would hit us with the crowbar, or whatever they were holding. A lot of people were literally freezing. There was no water at that point. There was nothing to eat." According to Ahmed, two people were beaten unconscious by border guards. When an ambulance arrived after 20 minutes, it only had space for one of them.
Others were threatened by guards, who prescribed 'exercise' as a treatment for anyone who passed out from lack of warmth, food or water. "I lost hope in these people," says Ahmed, describing how only 10 thin blankets were provided for around 1,000 refugees.
This was only the beginning of the journey for many BIPOC students who had come to regard Ukraine as their home and had to flee the war. White Ukrainian women and children were given priority to pass through the border points, with black and brown women and children forced to wait in line.
Eventually, Ahmed and his cat Cherry were among the 1 million refugees who managed to cross the border into Poland within the first week of the war, where they settled into camps to review their options.
Exclusionary German bureaucracy 
After a long journey from Poland, some of the students arrived at Berlin's Central Station (Hauptbahnhof), drifting through makeshift camps with tables dedicated to clothes, food and medicine dotted through the space. Various German families clutched homemade cardboard signs with offers of accommodation scrawled across them. One architecture student from Morocco, who declined to give his name, said he and his two friends struggled to find a place to stay as many families were specifically looking to help white Ukrainian women and children.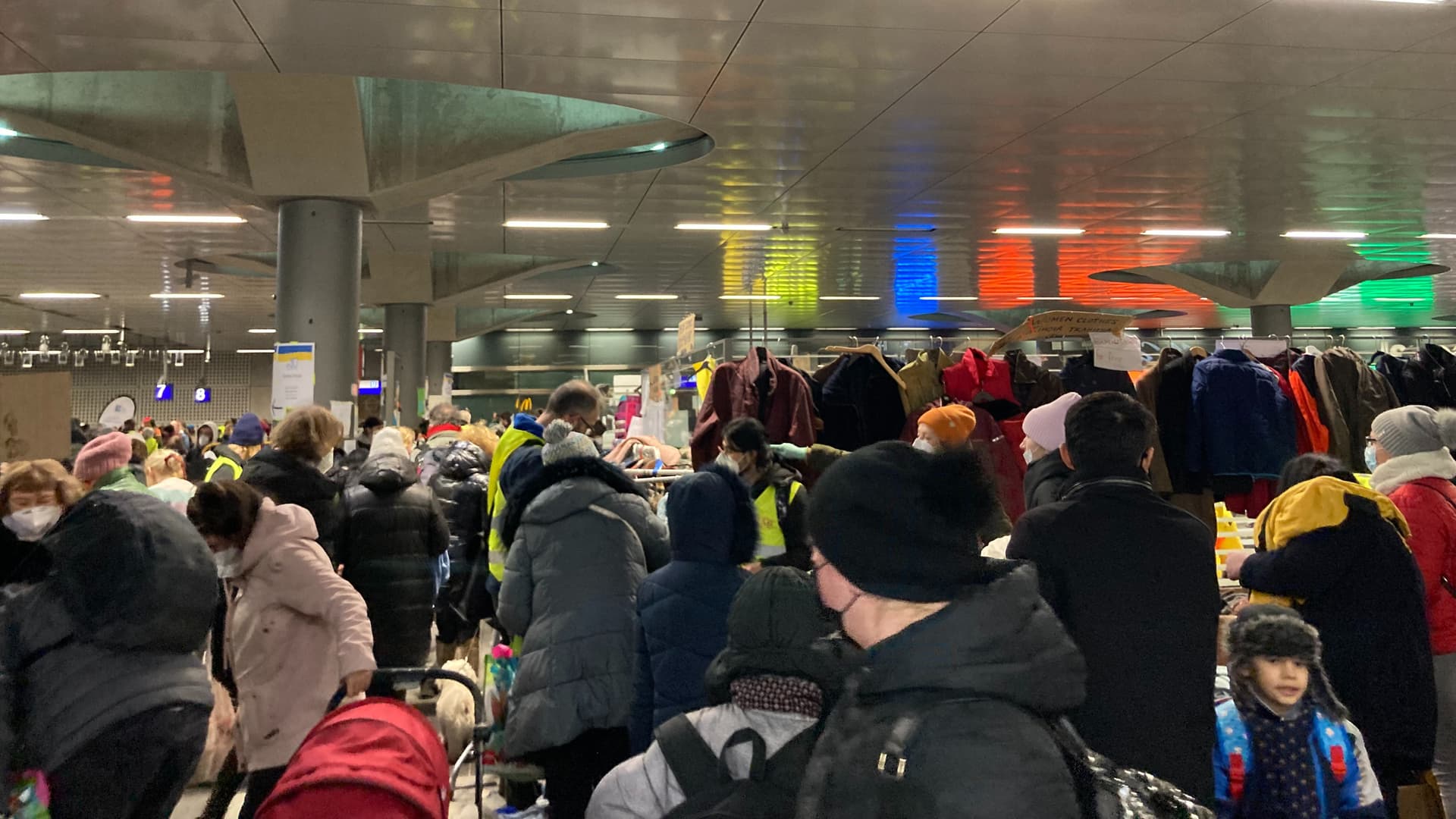 (Berlin Hauptbahnhof at the start of March. Photo: Liv Stroud)
T. Vicky Germain is a Haitian-US activist who has helped organise the BIPOC booth at Hauptbahnhof since the start of the war. She says that although arrivals have thinned out, there are no official numbers of how many third-country nationals have arrived in Berlin or Germany since the start of the war. It's presumed there are many who have become illegal, after missing the August 31 registration deadline imposed by German authorities.
The main issues the BIPOC refugees face are gaining access to social and emergency funds, health insurance, which is compulsory in Germany, and access to food. "It's a huge fight getting housing because many social offices don't want to pay for housing for BIPOC folks," Germain says. Many refugees were only able to find accommodation offers in apartments or rooms for weeks at a time.
"You have people running from the same war, and those with Ukrainian citizenship are being treated in a more privileged way and those who don't have Ukrainian citizenship are being treated differently. They don't have the same rights to stay in Germany or to receive the same type of protection," Germain says.
Authorities in states including Bavaria and North Rhine-Westphalia have confiscated refugees' passports, refusing to return them, and other states have been issuing deportation notices and denying residency permits. "It's really crazy since [the refugees were] legally tourists until the 31st of August," says Germain. In other states, like Bremen and Hamburg, people get six months to try to figure out what they're going to do to learn the language and meet the requirements for the student visas.
Germain says that she is hopeful of a better, more functional solution. Most of these students are professionals, and Germany already suffers from a major worker shortage. According to the Federal Employment Agency (BA), around 1.2 million workers are currently being sought, two-thirds of whom are skilled workers.
 "There's a need for these people here. So, I don't know what the hold-up is," Germain wonders. "You ask yourself – when will they finally arrive in a situation where they feel safe and can start living their lives?"
Obstacles to continuing studies
Nothing has changed in the last six months since Zimbabwean-born second-year medical student Korrine Sky, who was studying in Dnipro, returned from Ukraine to the UK. Sky, who obtained her British passport a few years ago, emailed 13 British universities when she arrived, to find out if she could continue her studies with any of them, but they all came back with reasons why they couldn't accept students transferring from universities abroad – unless they are Ukrainian. 
Sky's main motivation to move to Ukraine two years ago was access to affordable university education, avoiding the eye-watering £9,000 tuition fees that British universities demand per year. She estimates her medical studies up until now have cost her £18,000, including fees, flights, accommodation, and other costs. Now, she feels like it has all been for nothing, as other universities are demanding she starts again from scratch.
Some universities have been quick to offer places to Ukrainian nationals to transfer. The support for Sky and others in her situation has been "completely zero."
"I'm not asking for prioritisation. I'm asking for empathy to be extended to all victims of the war. And education is a right.  When people are educated, they can benefit society, the community and themselves. It's literally the gateway out of poverty for many." Sky points out. "So to be denied that on completely unfair grounds – we're not the ones who started this war, we didn't invade Ukraine, we haven't caused all the violence – it feels as if we're being penalised and disregarded." 
(Photo: Korrine Sky)
Asylum applications rejected
Sudanese aerospace engineering student Mustafa came to Berlin at the start of the war but soon left for The Hague in the Netherlands, because German bureaucracy made it impossible for him to register. Now, he is temporarily working in a logistics facility as a machine operator. His plan is to work for a year whilst he saves up, and then finish the last part of his degree.
The Dutch government has changed the laws recently to state that from July 19, people who had a temporary residence permit in Ukraine, for example, because they studied or worked there, can "no longer claim municipal shelter, living allowance, education, and medical care." This includes third-country nationals from so-called "safe" countries. 
Mustafa, who was lucky enough to arrive in the Netherlands before the deadline, says he met some refugees who prefer moving into other EU countries when their paperwork is rejected by other states, rather than returning to their country of origin, which authorities deem "safe."
"Even the Ukrainians are considered temporary. [Dutch authorities] don't want a massive wave of people like us."
"Many people in Ukraine were not from safe countries, including Sudan. We have a military coup there, it's really unstable there. I expect a civil war will happen," he says. Others fear returning to their own country because of forced conscription. Mustafa warns, "you can't make one law for everyone, there are always special and individual cases." Mustafa says that if he were forced to return to Sudan, he would be arrested for protesting. So great is his fear to return to the country he was born in, that when his passport expired whilst he was in Ukraine, he went to renew it in Dubai, which cost more.
The biggest challenge the refugees in the Netherlands face, Mustafa says, is that "the European union is suffering from gas [shortages], economy, inflation. They don't want to accept more people. But even now we are working and paying tax. We are useful for the community."
Living in fear of deportation
Like Mustafa, Algerian-born Ramy feels he cannot return to his native country. When he arrived as a refugee from Ukraine, the German government rejected his asylum application and offered him a €2,000 resettlement grant to return to Algeria.
But Ramy says authorities do not provide translation for official documents, including forms to apply for asylum or returning of passports, leading to refugees signing forms permitting deportation they haven't fully understood. "They trick us in this way. I asked for the form to be entirely translated." Buy he says the authorities were reluctant to do so. "It was written that this person is going to exit the country as soon as possible. And they will give me €1,000 when I agree and €1,000 when I return to Algeria." 
German authorities kept Ramy's passport for six weeks, and he said some refugees ran away from Germany into other EU states without getting their passports back because they were so afraid of deportation. "They gave me a temporary permit, for three months, but you cannot do anything with that. You don't have the right to work. They gave me a tax number so I can pay taxes, but I cannot apply for a job."
Ramy fled to France, tired of waking up every morning afraid that German police would come to forcibly deport him without warning. "The police and German government treated me like a criminal," he says. Now living in a refugee centre in France, Ramy fears that authorities are trying to set him up for deportation. He feels separate from Ukrainian refugees even though they are both fleeing the country for the same reason.  
"I am in a centre for asylum and refugees here in France. And of course, the priority is for the Ukrainians," he says. It has been the story of the last three years since he left Algeria for Ukraine in 2019. "I have nowhere to stay. No money. I was told I would find a place to stay, but outside of Paris. Maybe 300 miles (482 km) or more. And there I will start to make my documents for asylum." Ramy says he feels he has been passed from pillar to post, whilst Ukrainians are made to feel welcome. 
"Now I'm disappointed because I can't find a job in seven months. My family is sending me money. It's very hard in Europe alone, without documents." He says he feels ashamed that he's gone from sending his family money from Ukraine to needing support from them.
"If I go back to Algeria, I have no future. I spent €10,000 to leave Algeria to go to Ukraine. I was working hard in Ukraine. Ukraine was a home for me. The [Ukrainian] population are open-minded. In Ukraine I had freedom."
(Photo: Ramy)
When I first spoke to students at the Polish-Ukrainian border during the first few days of the war, they were elated that their journeys of suffering and horror were over. Many arrived in poor physical and mental health, but were convinced there would be no more hurdles. Unfortunately, thousands are still stuck in precarious and nightmarish housing, academic and financial situations.
While many of the BIPOC refugees had made Ukraine their own home in their hearts, EU states are still forcing them to return to their countries of origin. European Commission President Ursula von der Leyen said that the war in Ukraine essentially boils down to 'democracy vs autocracy.' But once again, when supporters of democracy come to Europe from outside, they find that Europe is only too happy to turn its back and hope they go away.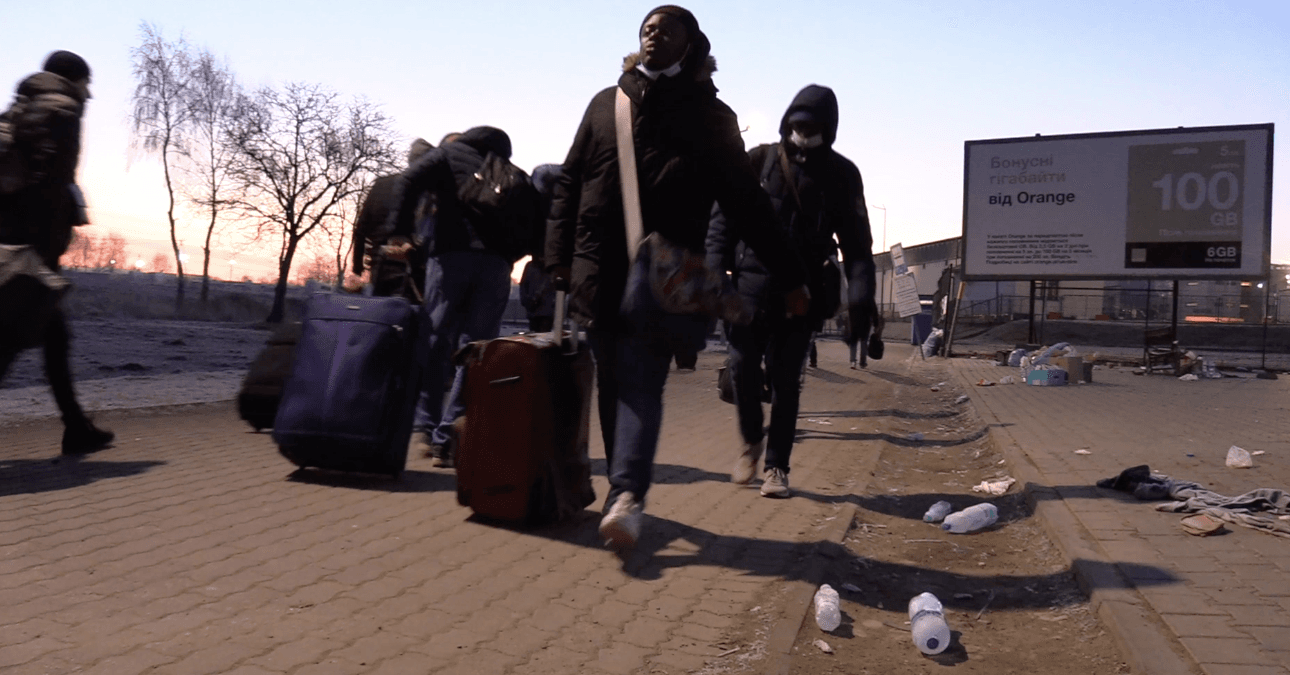 (Poland, March 2022. Photo: Liv Stroud)
Header image by Rasande Tyskar licensed under the Creative Commons Attribution-NonCommercial 2.0 license.